TOKKAN KOZO
[A Straightforward Boy]
Yasujiro Ozu (JP 1929)
"It looked like a good thing but wait till I tell you." So begins "The Ransom of Red Chief" O. Henry's 1907 "busted caper" story behind Tokkan Kozo (A Straightforward Boy), Yasujiro Ozu's twelfth film (his sixth in 1929) and his second film directing six-year-old Tomio Aoki. Aoki had played a small part in Ozu's previous film, Kaisha-in seikatsu (The Life of an Office Worker), and Ozu later recalled having been so amused by the boy's antics that he wanted to give him a leading role. Ozu often drew on American comedies or stories in his early years, and it is easy to see how "The Ransom of Red Chief" – about a kidnapping gone awry when the little boy kidnapped is more trouble than he is worth – would appeal as inspiration for a film featuring the irrepressible Aoki.
Tokkan Kozo foregrounds character interaction, comic timing, and gags loosely based on details in O. Henry's story. In "Red Chief," two ne'er-do-wells nab the spirited young son of a wealthy Southerner, promising him "a nice ride" and candy, but the boy throws a wrench in their plans. He rides roughshod over his erstwhile kidnappers in a game of cowboys and Indians, and they end up paying the father to take him back before they clear out of town, fast. In Tokkan Kozo, shifty-eyed Bunkichi (Tatsuo Saito) lures Tetsubo (Aoki) away from his friends by promising to take him "someplace fun," then bribes him with a snack and toys. Bunkichi brings Tetsubo back to his boss, Gontora (Takeshi Sakamoto), who is intrigued by Tetsubo's resourcefulness until it escalates into full-blown mayhem. A weary Bunkichi is tasked with getting rid of his catch, something much easier said than done.
"Chuji Nozu," credited with the original story, is a pseudonym derived from the names of Tadao Ikeda (who wrote the script), Tadamoto Okubo, Kogo Noda (already a frequent Ozu collaborator), and Ozu. According to Ozu and Noda, this quickly conceived project was motivated by a thirst for imported German beer. After procuring an advance from Shochiku studio head Shiro Kido, the four sketched out a plot over beer at Fledermaus, a bar in Tokyo's Higashi Ginza neighborhood. Yuharu Atsuta, the assistant cameraman, recalled the film was shot in just three days, almost entirely at or near the Shochiku Kamata studio. The wall behind the police box that Bunkichi passes toward the end of the film (when Tetsubo shouts, "Hey, Mr. Kidnapper!") was part of the studio, and the final sequence takes place in the immediate neighborhood. The crew used existing studio sets for everything else,  except the scene with Bunkichi and Tetsubo on a park bench, shot in Yokohama.
Atsuta later said the tight production schedule made Aoki so irritable that his off-screen behavior rivaled that of his character. As Tetsubo, Aoki's headstrong mischievousness (David Bordwell's description, "diabolical," is apt) brought him fame as a child actor. He appeared in at least fifteen Shochiku films in 1930, and officially adopted "Tokkan Kozo" (roughly, a little boy who "charges" or "crashes" about) as his stage name in 1931. Ozu directed Aoki in a dozen films leading up to the war, and he enjoyed a long career as a character actor until his death in 2004.
Kinema Junpo's December 1929 review of Tokkan Kozo shortly after it opened lauded the agile camerawork and skillfully directed dynamics between Aoki, Takeshi Sakamoto, and Tatsuo Saito. Sakamoto and Aoki subsequently appeared together as father and son in several Ozu films, including Dekigokoro (Passing Fancy, 1933), Ukigusa monogatari (The Story of Floating Weeds, 1934), and Tokyo no yado (An Inn in Tokyo, 1935). Outside Japan, Aoki is perhaps best known as Tatsuo Saito's younger son in Umarete wa mita, keredo…(I Was Born, But…, 1932).
The Print   A 4-reel comedy short, Tokkan Kozo opened at the Asakuka Teikokukan in Tokyo on 23 November 1929. It was considered lost until 1988, when a partial 9.5mm Pathé Baby home entertainment version surfaced in a private collection. Blown up to 35mm by the National Film Center, Tokyo (now the National Film Archive of Japan), this 14-minute print was shown at Pordenone in 2001. The Pathé Baby version included in this year's edition (a DCP made from a digital transfer by Imagica West) was part of a personal collection donated in 2015 to the Toy Film Museum in Kyoto. It includes additional footage adding to our knowledge of the film. This includes a title card, opening credits, a five-shot opening sequence that begins with children playing the hand game "rock, paper, scissors," and an end title attributing the film to Shochiku's Kamata studio.
The wording of the first expository card is the only other notable difference between the two extant Pathé Baby versions, although both titles refer to the weather. After seeing a video transfer of the 1988 discovery, Yuhara Atsuta remembered the film opening with the Shochiku company logo, a title card, and credits, followed by a long shot of a weather observatory, a closer shot of a wind gauge, and two or three other short cuts preceding a shot of a boy counting down during a game of hide-and-seek (the first action shot in the NFAJ print). It is possible that these "short cuts" correspond to the "rock, paper, scissors sequence" in the Toy Film Museum print.
Joanne Bernardi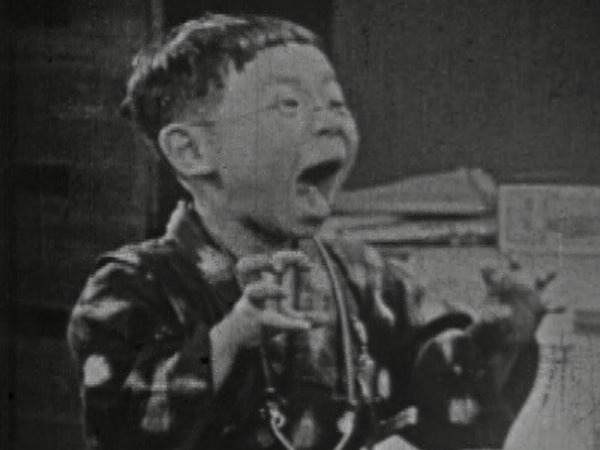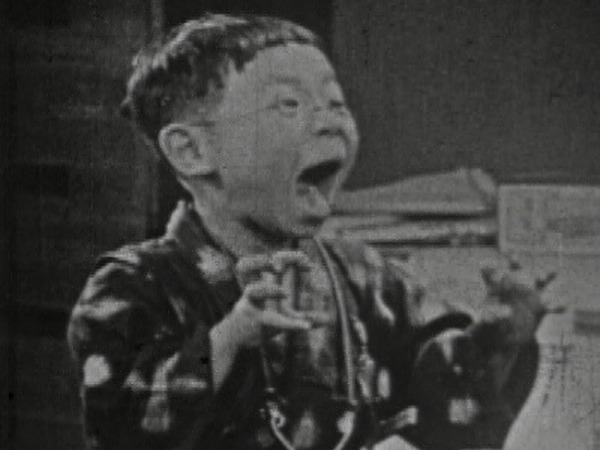 regia/dir: Yasujiro Ozu.
sogg/story: "Chuji Nozu" [Tadao Ikeda, Tadamoto Okubo, Kogo Noda, Yasujiro Ozu], liberamente tratto dal racconto breve di/loosely based on the short story by O. Henry, "The Ransom of Red Chief" (Saturday Evening Post, 06.07.1907).
scen: Tadao Ikeda.
photog: Hiroshi Nomura, asst. Yuhara Atsuta.
cast: Tatsuo Saito (Bunkichi), Tomio Aoki [Tokkan Kozo] (Tetsubo), Takeshi Sakamoto (Boss Gontora).
prod: Shochiku. uscita/rel: 23.11.1929 (Asakuka Teikokukan, Tokyo).
copia/copy: DCP, 22'26" (da/from Pathé Baby 9.5mm; orig. 35mm, 1035 m., 38′); did./titles: JPN.
fonte/source: University of Rochester, NY / Omocha Eiga Kan (Toy Film Museum), Kyoto.
DCP realizzato nel 2018 presso il laboratorio digitale dell'Università di Rochester. / DCP created 2018 in the University of Rochester Digital Scholarship Lab.