(Copyright: Richard Williams)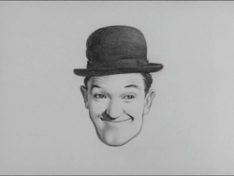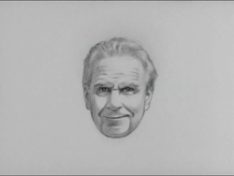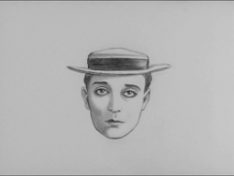 (Copyright: Richard Williams)
The trailer is a small monument of traditional animation: Richard Williams has gone back to the technique of 1905, with every frame a drawing on paper (no cels, no computers). On June 13 the logo was shown at the Academy's Samuel Goldwyn Theater, before the screening of Frank Borzage's Humoresque.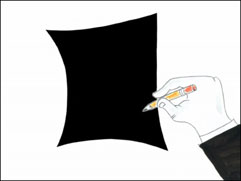 Academy Award-winning independent animator, animation historian, author, teacher and lecturer John Canemaker, who was a recipient of the Giornate's 2007 Jean Mitry Award, has created a new animated trailer for the festival.
This 35-second film, in b&w and colour, is also a tribute to three pioneers of silent animation. First we see the artist's hand draw Fantoche on a black sheet of paper. This character, created just 100 years ago by Emile Cohl, then changes into Winsor McCay's colourful Little Nemo, who pirouettes and bows to the audience, to be replaced in turn by Felix the Cat. Otto Messmer's famous feline has an idea, which makes him grin in satisfaction, showing four pointed teeth. The idea? To use his tail as a lasso, to rope the Giornate logo, and drag it onscreen.
Film historian Russell Merritt was able to see it recently while visiting the Cineteca del Friuli, and immediately wrote to the filmmaker: "We watched it again and again, oohing and aahing. It's an absolute gem! I hope I don't have to choose my favorite moment: Felix giving his toothy wink or Fantoche's burst of exuberance."
The animated trailer will be transferred to film and shown exclusively at the Verdi, with live musical accompaniment: "Our pianists will do wonders," said festival director David Robinson.