YES OR NO (Tentazioni) (US 1920)
Directed by R. [Roy] William Neill
The gimmick of Arthur Goodrich's play Yes or No (first produced in New York on 21 December 1917) was that it staged its two parallel stories of a rich and a poor wife in a split set, with a room in the poor house on one side and one in the rich on the other, alternating scenes in the two sets by darkening one while the other was strongly illuminated. The film does not attempt to reproduce this, according to Variety's critic "Jolo" (Joshua Lowe): "Instead of the divided stage, as in the spoken version, Yes or No as a feature picture has been reproduced through the medium of flash-backs, alternating between scenes depicting the life of the rich and the poor." (He uses "flash-back" in its original sense, which did not imply alternation between time periods.) The film instead resorts to a favorite 1910s device: the dual role. Every big female star got to play at least one of these dual roles. Viola Dana had appeared as the good and bad twins Unity and Priscilla Beaumont in The Girl without a Soul in 1917, Mary Pickford in the title role and as Unity Blake in Stella Maris in 1918, Marguerite Clark as Little Eva and Topsy in Uncle Tom's Cabin in the same year, and Mae Murray as Daisy and Violet White in Twin Pawns in 1919, to name only a few. Talmadge had already appeared as Ruth Grahame and Jeanne La Fleur in Ghosts of Yesterday and as San San and her daughter in The Forbidden City in 1918, and would have another such dual role as Moonyean and Kathleen in Smilin' Through in 1922. Talmadge appears in Yes or No as both the rich and poor heroines – to quote J.S. Dickerson in Motion Picture News (17.07.1920), "Miss Talmadge wears a wig and some fine clothes in the one character, and her own tresses and calico in the other role, with equal grace."
This choice imposed another, perhaps more significant, modification of the play. The stage version had a prologue and an epilogue: it began with a young woman contemplating leaving her husband for another man, and consulting her mother and her mother's woman companion about her decision. The two older women then tell in flashback how they had faced the same choice years earlier, and each chose differently, with different consequences (but neither commits suicide as occurs in the film). In the epilogue, the daughter decides to stay with her husband. This structure placed Goodrich's play squarely in the lineage of Elmer Rice's On Trial (1914), notorious for introducing the flashback to American drama. Theatre Magazine complained, "The brood of On Trial is still with us after these several years. The latest specimen is Yes or No." The use of a dual role in the film version meant that, without very elaborate special effects, the two wives could not appear together, and hence the prologue, epilogue, and flashback structure were ruled out. This clearly puzzled Dickerson (again in Motion Picture News): "Miss Talmadge appears in a dual role … apparently without reason unless it is to hold forth the suggestion that from this fact some unexpected twist will be forthcoming at the end of the picture, but nothing like this happens." Many of the reviewers shared this puzzlement. Nevertheless, the reviews were positive, and the film was very successful, primarily because of Talmadge's performances: Wid's succinctly declared, "Fine characterizations by star succeed in substituting for situations."
Talmadge's "fine clothes" were a crucial part of her screen image. Based in New York, she had the advantage over her Los Angeles colleagues insofar as she was close to the most advanced fashion outlets in the U.S. But there is no doubt that the more interesting of the two women is the poor wife, Minnie Berry, and Norma's portrayal of her is the more striking performance. Note the understated but comic way in which she reacts to the assortment of characters who share her tenement apartment. For example, in the scene in which she serves dinner, she tries to get food on the table and simultaneously keep the peace while her sister, the sharp-tongued and high-stepping Emma (played in one of her rare performances by Norma's sister Natalie) quarrels with her ill-mannered brother, and the family boarder pays her unwanted compliments in her husband's absence.
The script of Yes or No is credited to Mary Murillo, the house screenwriter of Norma Talmadge Productions, but the entry for Edmund Goulding in the Motion Picture Studio Directory and Trade Annual for 1920 (p. 320) lists the adaptation as his.
Ben Brewster, Lea Jacobs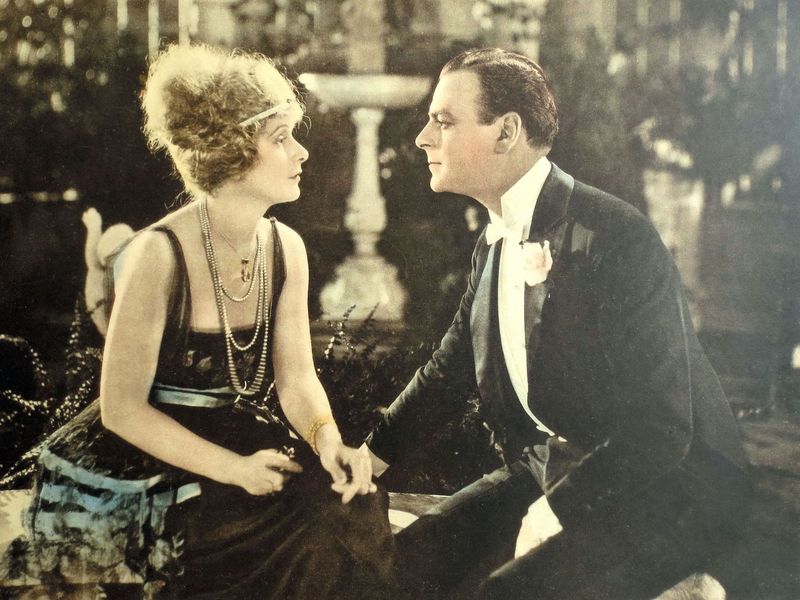 YES OR NO (Tentazioni) (US 1920)
regia/dir: R. [Roy] William Neill.
scen, adapt: Mary Murillo, dalla pièce di/from the play by Arthur Goodrich (1917).
photog: Ernest Haller.
did/titles: Burns Mantle. cast: Norma Talmadge (Margaret Vane/Minnie Berry), Frederick Burton (Donald Vane), Lowell Sherman (Paul Derreck), Lionel Adams (Dr. Malloy), Rockcliffe Fellowes (Jack Berry), Natalie Talmadge (Emma Martin), Edward S. Brophy (Tom Martin), Dudley Clements (Horace Hooker), Gladden James (Ted Leach).
prod: Norma Talmadge Film Corporation.
dist: Select Pictures Corporation.
uscita/rel: 28.06.1920.
copia/copy: DCP, 83′ (da/from 35mm?, ?? ft. [orig. 6 rl.], ?? fps); did./titles: ENG.
fonte/source: Library of Congress National Audio-Visual Conservation Center, Packard Campus, Culpeper, VA.