WHERE LIGHTS ARE LOW (US 1921)
(Dziu Dzicu (Gdje svijeće tmurno gore…); Il principe T'Su)
Directed by Colin Campbell
Music by Philip Carli

Preceded by the Thanhouser one-reeler TOODLES, TOM AND TROUBLE (US 1915)
Where Lights Are Low (1921; reviewed also under the title When Lights Are Low) is based on a short story by Lloyd Osbourne, a stepson of Robert Louis Stevenson, published in Metropolitan Magazine in April 1920. A Chinese prince, Tsu Wong Shih (Sessue Hayakawa), who loves a gardener's daughter, goes to America to attend college. Later he finds his loved one in a prostitute auction in San Francisco's Chinatown, and fights gangsters to rescue her.
Where Lights Are Low was the twentieth film made by Hayakawa's own production company. The Haworth Pictures Corporation, established in 1918, changed its name to the Hayakawa Feature Play Company at the beginning of 1921. Despite the new name, the production decisions shifted from Hayakawa to the distribution company Robertson-Cole. Haworth had been integrated into Robertson-Cole when Hayakawa signed a new four-year contract with them on 28 March 1920, and by 1921 this was virtually complete. In fact, the name "Hayakawa Feature Play Company" cannot be found in the ads for Where Lights Are Low in trade journals. Instead, there is only the credit "Produced by R-C [Robertson-Cole] Pictures."
The English-born Harry F. Robertson and the American Rufus Sidman Cole formed Robertson-Cole as an import-export firm in 1918. For them, the film business was originally a sideline to automobiles and tea. In May 1920 Robertson-Cole published a multi-page ad for their "Super-Special" series, including Hayakawa's star vehicles, in trade journals: "Robertson-Cole makes the positive assertion that none of these productions shall be released unless they pass the test which classes them as 'Specials.' Robertson-Cole is in a position to make this declaration because its contracts with producers provide for the rejection of pictures until they are of the highest standard of excellence." Robertson-Cole thus began to exercise their ultimate authority to decide the content of the films they would distribute. By 1921 Robertson-Cole started producing films with a rationalized and standardized basis, and became the "foremost of the independent motion picture producers and distributors," according to its own declaration.
Initially at his own company, Hayakawa intended to produce films that would carefully mediate images of exotic and authentic Japan so that he could satisfy both his Americanized star status and his Japanese national identity. But under the new contract he had to follow Robertson-Cole's strategy of standardizing his star vehicles to conform to fans' Orientalist imagination of Asia, including the theme of interracial romance (the Caucasian Gloria Payton plays the Chinese heroine in Where Lights Are Low). The result was not fully satisfactory. The New York Times criticized the standard quality of the film: "It remains a movie melodrama, which is to be regretted, because Mr. Hayakawa is worthy of something more genuine. Apparently, however, he or his managers think that the public demands this sort of stuff, and so they continue to turn it out.… The story becomes merely a fight between the hero and the villain for the possession of the heroine, with the victory of the former certain from the start."
In addition to the story, the set of San Francisco's Chinatown was not convincing, even though it was inspired by Arnold Genthe's photographs of old Chinatown from the late 1890s. Britain's Kinematograph Weekly observed that "it fails, as nearly all Chinatown photoplays do, to convince the spectator that it is a picture of the actual life of the district." Such a criticism was partially due to the fact that the Japanese image was strongly inscribed into Hayakawa's actor-identity even when he played non-Japanese roles. Picturegoer's critic noted, "Sessue Hayakawa specialises in Chinese stories this year, although he looks always the Japanese he is." That same year Colin Campbell directed two more films that cast Hayakawa in Chinese roles, The First Born (preserved at the BFI) and The Swamp (preserved at Gosfilmofond).
But in Japan, young critics who were eager to modernize Japanese film production by distinguishing them from old theatrical conventions supported Hayakawa's efforts. For them, Hayakawa's films were valuable because they used truly cinematic techniques comprehensible to foreign audiences. Iwao Mori, who would later become a producer at Toho, highly valued Where Lights Are Low for its authentic depiction of "Eastern ways of thinking." Mori even called Hayakawa "an unofficial diplomat," and insisted that "we as a nation have a responsibility to support him." A now-lost Japanese film, Reiko no chimata ni (At the Top of Sacred Light, 1922, directed by Kiyomatsu Hosoyama), was reported to have imitated Where Lights Are Low in its skillful choreography of the climax, which incorporated cross-cutting of the duel between the hero and the villain and scenes of the police rushing through misty San Francisco. Critics praised Reiko no chimata ni for its deviation from the conventional theatrical style of filmmaking in Japan.
A Japanese actor, Togo Yamamoto, impressively plays the villain, Chinese gang boss Chang Bong Lo. Yamamoto returned to Japan in 1925, and worked with directors such as Yasujiro Ozu and Hiroshi Shimizu.
Daisuke Miyao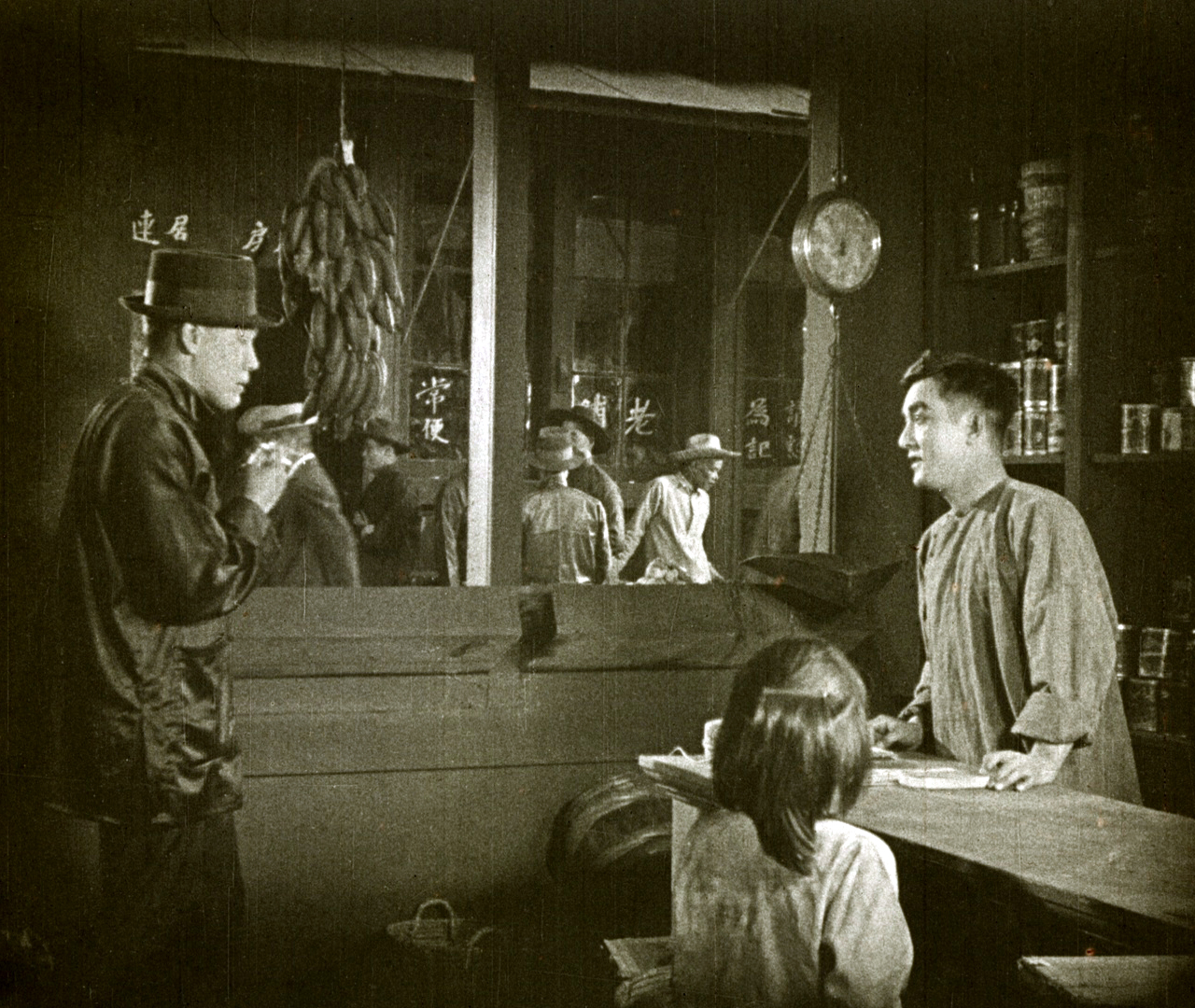 WHERE LIGHTS ARE LOW (US 1921)
(Dziu Dzicu (Gdje svijeće tmurno gore…); Il principe T'Su)
regia/dir: Colin Campbell.
scen, adapt: Jack Cunningham, dal racconto di/based on the short story by Lloyd Osbourne, "East is East" (Metropolitan Magazine, 04.1920).
photog: Frank D. Williams.
cast: Sessue Hayakawa (T'Su Wong [ShihTsu Ya Woug]), Togo Yamamoto (Chang Bong Lo), Goro Kino (Tuang Fang), Gloria Payton (Quan Yin [Owan Yin]), Kiyosho Satow (Lang See Bow), Misao Seki (Chung Wo Ho Kee), Toyo Fujita (Wung), Jay Eaton ("Spud" Malone [Jack Malone]), Harold Holland (Sergeant McConigle), Louise Emmons (vecchia megera/old crone).
prod: Hayakawa Feature Play Co.
dist: R-C Pictures Corporation.
première: 31.07.1921 (Captiol Theatre, New York City).
uscita/rel: 04.09.1921 (orig. l: 5,810 ft.).
copia/copy: streaming digital file, 68′ (da/from 35mm, nitr. pos.); did./titles: HRV.
fonte/source: National Film Archive of Japan, Tokyo.
Film restaurato digitalmente a partire da un nitrato positivo 35mm preservato dalla Jugoslovenska kinoteka di Belgrado. / Film digitally restored from the 35mm nitrate print preserved by the Jugoslovenska kinoteka, Beograd.