[TRITON TVÄTTPULVER]
[Triton Washing Powder]
? (SE 1923)
In this unidentified film commercial, an entertaining laundry competition between two housemaids working for friendly neighbouring families is used to convince the audience of the superiority of Triton's washing powder over other brands. The narrative is presented as a comedy, and plays more obviously on classic physical stereotypes than other films in this series. Not only are judgemental jokes on body weight to be found in the names of the two families, Smalman ("Thinman") and Tjockelin ("Fatley"), but the personalities of the two maids are unmistakably reflected in their different appearances: the fatter, uglier, and dark-haired being the not-so-clever one, while her prettier, thinner, and blonde competitor is smarter and efficient.
The film is also interesting from a class perspective, since it is the losing maid who gets belittled for a weaker result, even if the true reason is the bad working conditions provided by the family she works for. Still, one can imagine that our sympathies are supposed to be with her mistress, who regrettably declares that she has to eat lunch in town when it's laundry day.
For an audience in 2019, for whom it might be hard to fully understand the craze for modernity of that time, films like this help illustrate the impact of the industrial and technical progress of the last century on the everyday life of ordinary people. Even with the advantage of the modern, simplified work procedures made possible by Triton washing powder, doing the laundry in the 1920s was still a back-breaking job!
About the print: A duplicate negative, downsized to Academy ratio, was made on colour stock from a tinted nitrate print in 1997. Due to the decomposition of some of the source material, several damaged scenes were copied as freeze frames by choice at that time. The viewing print was struck from this negative the same year.
Tina Anckarman, Magnus Rosborn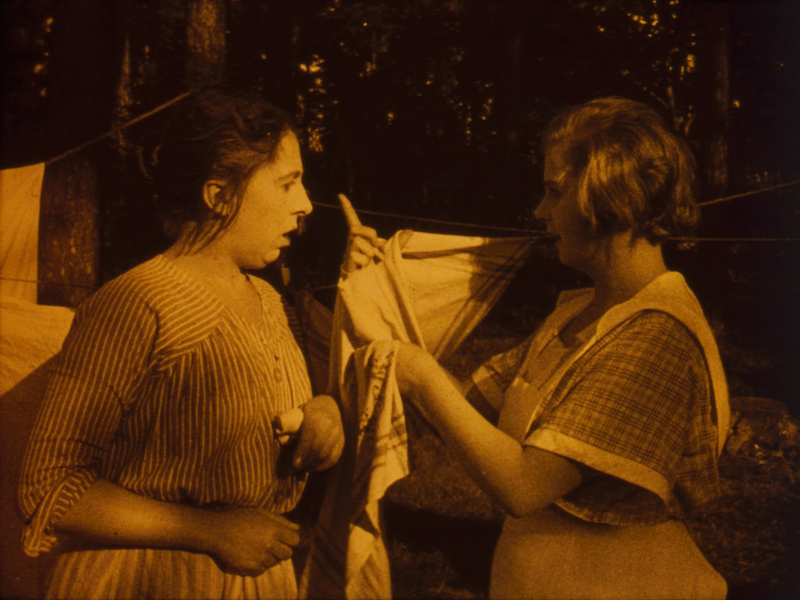 regia/dir: ?.
cast: Elsa Adenius (Lisa, la domestica dei "Magri"/the maid of the Smalman ["Thinman"] family), Ruth Weijden (Maja, la domestica dei "Ciccioni"/the maid of the Tjockelin ["Fatley"] family), Edvin Adolphson (Signor/Mr. Smalman), Kurt Welin (Mr. Tjockelin).
prod: ?, per/for Triton.
copia/copy: 35mm, 320 m., 16′ (18 fps), col. (imbibito/tinted); did./titles: SWE.
fonte/source: Svenska Filminstitutet, Stockholm.