Tod Browning made ten films in collaboration with Lon Chaney, including The Unholy Three (1925), West of Zanzibar (1928), and the legendary lost picture London After Midnight (1927). The Unknown may arguably be the best of their collaborations, and it is certainly the one that drew the most critical attention, though not always a positive one. Mordaunt Hall of the New York Times called it "anything but a pleasant story. It is gruesome and at times shocking. (…) The narrative is a sort of mixture of Balzac and Guy de Maupassant with a faint suggestion of O. Henry plus Mr. Browning's colorful side-show background. The rôle of Alonzo, who poses as the Armless Wonder with a Spanish circus, is one that ought to have satisfied Mr. Chaney's penchant for freakish characterizations, for here he not only has to go about for hours with his arms strapped to his body, but when he rests behind bolted doors, one perceives that he has on his left hand a double thumb."
Circuses and sideshows were a favorite theme of Tod Browning, as his "penchant for freakish characterizations", and body mutilation in particular, was up there with Chaney's own. But only twice did these topics become the essence of his films – first in The Unknown and, five years later, in Freaks. The mutilation in The Unknown is, at first, fake: Alonzo hides his arms behind a corset. But once he realizes that the girl he is infatuated with has an aversion to being handled, he gets his arms amputated. All this is, undoubtedly, a rather transparent sexual metaphor.
Lon Chaney is hardly "The Man of a Thousand Faces" here – at least not in the usual sense, as there is very little makeup. But it is the expressivity of his face and of his body parts, each of them as if living a life of its own, that make a plot on the edge of ridiculous look believable. The girl is played by a very young Joan Crawford. By no means a debutante, she was still a year away from Our Dancing Daughters, a movie that would launch her to stardom. She was deeply impressed by Chaney: "the most tense exciting individual I'd ever met," she recalled, "a man mesmerized into this part. (…) It was then I became aware for the first time of the difference between standing in front of a camera, and acting." (A Portrait of Joan: The Autobiography of Joan Crawford, 1962)
After it played its initial run in the late 1920s, The Unknown, like all silent films, went back to the studio vault and eventually disappeared. Mourned by cinephiles as one of the great losses of silent cinema, it miraculously resurfaced in France in the late 1960s… Or was it 20 years earlier? The story of the film's rediscovery is rather convolu ether beautifully. The running time of the new George Eastman Museum restoration is about one minute shorter than the original release – probably due to a few missing fade-ins and fade-outs. New English titles were created based on the original cutting continuity. Now at last audiences can watch The Unknown in a version that is very close to the way it was originally seen. There are no additional plotlines, no new twists, and it is still remarkably short for a major Hollywood production of the late 1920s. But when all the recurrent close-ups, all the little gestures of no particular expedience, all the reaction shots that seemingly distract from the main storyline – in short, all the things that distributors thought best to exclude from the film to make it more dynamic – when all that is back in place, The Unknown finally becomes what it was meant to be: a psychological study disguised as a horror film.
Peter Bagrov, Anthony L'Abbate
The music  My newly commissioned score for the Giornate del Cinema Muto was inspired by the works of Joaquín Turina and Manuel de Falla, among other famed Spanish composers of the 1920s (some known only in Spain at the time), with instruments chosen after De Falla's ballet El amor brujo.
Spanish scholars have researched mood-music compilations written for silent films (by Erno Rapée, Sam Fox, and others), as well as cue sheets offered by American studios for Spanish plots, yet Lidia López Gómez and Julio Arce, among others, have found a marked under-representation of Spanish music in these scores, not only barely present at the time but with utterly inaccurate references when they are included.
Therefore, rescoring The Unknown in 2022 meant pursuing period inspiration, not just through various surviving cue sheets from feature films of the time, but by imagining a Spanish cultural lens with some de-colonial filters. (My gratitude goes to Kendra Preston Leonard and the Silent Film Sound & Music Archive team for making sources available worldwide, online.)
Asking a Mexican composer to write a new score for the film is less incongruous than may initially be thought: this newly restored, complete version of Browning's masterpiece shows some frames of a psaltery ensemble whose instruments could recall a Mexican Orquesta Típica, well-known to areas of Mexico and the USA at that time, and whose Spanish repertoires filled my childhood.
José María Serralde Ruiz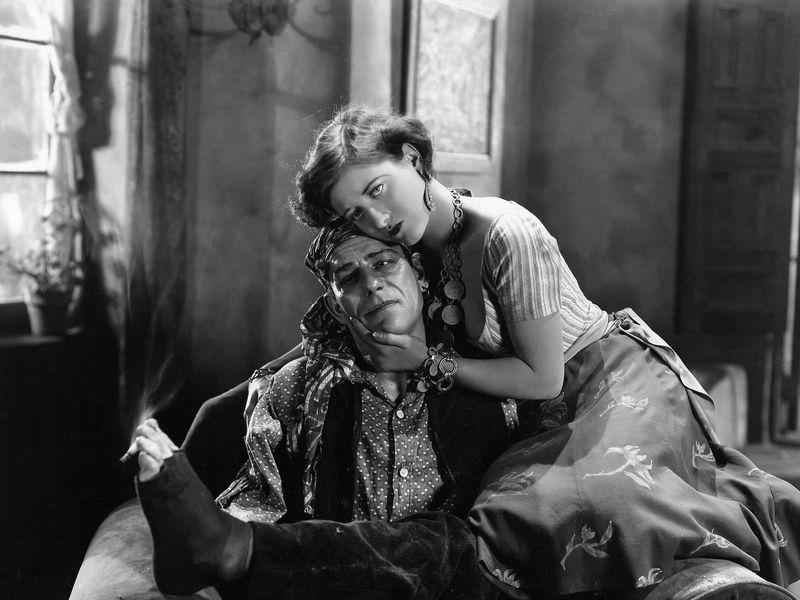 THE UNKNOWN (Lo sconosciuto) (US 1927)
regia/dir: Tod Browning.
scen: Waldemar Young.
did/titles: Joseph W. Farnham.
photog: Merritt B. Gerstad.
mont/ed: Harry Reynolds, Earl Taggart.
scg/des: Cedric Gibbons, Richard Day.
cost: Lucia Coulter.
cast: Lon Chaney (Alonzo), Norman Kerry (Malabar), Joan Crawford (Nanon), Nick De Ruiz (Zanzi), John George (Cojo), Frank Lanning (Costra).
prod, dist: M-G-M.
première: 03.06.1927 (Loew's State, Los Angeles).
uscita/rel: 04.06.1927.
copia/copy: DCP, 66′ (da/from 35mm, 5235 ft., 21 fps, da/from 35mm pos. nitr. [George Eastman Museum] + 35mm pos. nitr. [Národní filmovy archiv]; orig. l: 5517 ft.); did./titles: ENG.
fonte/source: George Eastman Museum, Rochester, NY. Restaurato con il sostegno di/Preserved with the support of The National Film Preservation Foundation.