THE KID

Charles Chaplin (US 1921)
Score: Charles Chaplin
Performed live by: Orchestra San Marco, Pordenone
Conductor opening night: Timothy Brock
Conductor repeat show: Günter A. Buchwald
The Kid stands alone among Chaplin's films as his most direct and personal response to his own childhood traumas of separation from his mother, and abandonment to the custody of constitutionally inhuman public authorities. He did not deny the autobiographical element, and even acknowledged that the set of the attic which is home to the Tramp and his adopted Kid is based on memories of the garrets of his own London childhood.
Yet at the same time the conception of the film seems to have been conditioned by the current traumas of his life in Hollywood. In 1918 he had trapped himself into marriage with the 17-year-old Mildred Harris. Boredom with his child-wife set in fast, and Chaplin blamed the marriage for a lengthy and acute creative block and his consequent six months' struggle to put together the three reels of the modest Sunnyside. There seemed a moment of hope for the marriage when Mildred became pregnant, but on 7 July 1919 she gave birth to a malformed boy, Norman Spencer Chaplin, who died three days later. Mildred said few kind words about Chaplin, but she remembered that he wept when Norman died.
Paradoxically, a mere ten days after this blow, Chaplin seemed suddenly recharged, and was at the studio auditioning babies for a new production, provisionally titled The Waif. He settled on 18-week-old Silas Merric Hathaway Jr. (who in 2019 celebrated his 100th birthday, as the only surviving actor from Chaplin's silent cinema). By the time shooting began, Baby Hathaway was eight months old, and gives a lively performance as the eponymous Kid as a newborn, at the time he is abandoned by his unmarried mother (Edna Purviance) and found and reluctantly adopted by the Tramp. When the Tramp arrives home with his new-found dependent and the neighbours ask the child's name, he discreetly retires behind the door, to emerge announcing confidently, "John!"
Matured to four years old, the role of the Kid is taken over by Jackie Coogan, who was in his fifth year when Chaplin first saw him as part of his parents' vaudeville eccentric dance act, performing a virtuoso shimmy in imitation of his father. Chaplin was enchanted, and even more delighted when he met the child in person and discovered his extraordinary gift for mimicry – a normal element of the infant learning process, but in Jackie's case phenomenally developed. Chaplin had found his perfect actor: someone who could assimilate, embody, and reproduce his own performance.
Their partnership – and an unmatched child performance – climaxes in what remains one of cinema's most memorable and poignant scenes. The Kid falls ill and the Tramp calls in a curmudgeonly doctor, who decides that the child needs proper care and attention – which arrives in the shape of a self-important orphanage official and his toadying assistant. Despite fierce resistance, the Kid is snatched and thrown in the back of a wagon, like a stray dog. Pursued by a cop, the Tramp embarks on a crazy steeple-chase across the slum roof-tops, to reach the road, leap down and intercept the wagon, put the proper authorities to flight, and reclaim the Kid, with one of cinema's most expressive kisses. In this moment the Tramp is elevated to epic hero. Half a century later Coogan remembered shooting the scene, and how Chaplin prepared him with a dramatic narration of this crisis in the Kid's story. Thereafter, as the older Coogan put it, "If you're going to portray yourself being hysterical, you've got to be hysterical. Otherwise it's as phoney as a three-dollar bill."
Like all Chaplin's silent films, The Kid was unscripted, and filmed in continuity. The only sequence that was restaged, to give it more positive plot purpose, was the doss-house. The story is not formally structured, but simply feels inevitable, as it moves between the fates of the Tramp and his ward, companion, and partner-in-mischief, and the woman who has found glory as a famous singer, but still mourns the child she abandoned.
A curious coda provides a lead-in to the wishful happy end. Having lost the Kid, and exhausted by the search, the Tramp falls asleep on his doorstep, and dreams of Paradise, with all the characters of the film – bully, cop, orphanage officials, stray dog – transformed into genial winged angels. But sin and temptation creep in, in the form of a flirtatious seductress, played by 12-year-old Lillita MacMurray, who four years later, as Lita Grey, was to become Chaplin's second and even more problematic child-wife. The sequence divided contemporary critics: Sir James Barrie charged Chaplin with whimsy, but Francis Hackett celebrated it as "a simple man's version of the Big Change, made up from the few properties with which a simple man would be likely to be acquainted".
It would be hard to guess from the confidence of the film that the production was beset throughout by grave external problems. Mildred commenced a divorce action which brought trouble and unwanted attention (as when Chaplin and Louis B. Mayer, to whom Mildred was under contract, engaged in a much-publicized fist-fight in the restaurant of the Alexandria Hotel). The distributors, First National, strove to get Chaplin's first feature film for the cut-price of three two-reelers, and looked for an ally in Mildred, encouraging her, as part of her divorce action, to attach his business assets, which would have included the negative of The Kid. This threat drove Chaplin and his cameraman Roland Totheroh to flee with the negative, in the small hours, to Salt Lake City, where they improvised a cutting room in a hotel suite. The editing and lab work were completed in a secret vacant studio in New Jersey.
The divorce was finally settled on condition that Mildred's lawyers withdrew an order restraining Chaplin from selling The Kid. First National came to heel, and the film triumphed throughout the world, elevating Jackie to an adored international celebrity, paid homage by world leaders and received by the Pope himself.
David Robinson
Restoring and Adapting The Kid score
An elderly but active Chaplin composed his score to The Kid at his home piano in Corsier-sur-Vevey, Switzerland in 1971. He wrote 18 individual compositions and relied on his long-time musical associate, Eric James, to transcribe each number in short score form (2-stave). London-based arranger and composer Eric Rogers was engaged to orchestrate the sketches and conduct the recording session.
Much like his later scores, the music to The Kid is not sentimental in the traditional "looking-back" sense, but rather as a fond and very personal reflection of his own childhood, and the music which most certainly permeated his household. It is interesting to note how cheery much of this score is. It must not have been easy, for 82-year-old Chaplin to compose to those all-too-familiar images of life in the dismal upstairs garret, and perhaps making music for the boy-Chaplin was an effective way to combat the memory of poverty. Music here seems to provide a comforting, transient light rarely found in such squalor.
The score had been composed for the version Chaplin last edited in 1971, and was recorded in one day, on October 25th of the same year. As with all his films, the scores he composed were not intended for live orchestral performances, they were recorded in studio to be released theatrically or on television as sound films. Therefore all his scores were composed to the film running at 24 fps.
My job was to adapt the sound-version score to the silent-version film – which runs at 21 fps – developing the score to lengthen the passages, while still maintaining the synchronization of music with the images. While several shorter scenes were a simple matter of extending the existing orchestration by a few bars, many others needed a more extensive span, also considering that the Eric Rogers orchestration is already spread pretty thin by repetition at 24 fps. For those passages, I decided to go back to the original pencil sketches and started the orchestration process from scratch, using as a model the scores to City Lights (1931), Modern Times (1936) and The Gold Rush (1925/1942), composed by Chaplin at the height of his creative powers.
The score calls for piccolo, 2 flutes, oboe, english horn, 2 clarinets, bass-clarinet, contrabass-clarinet, bassoon, 2 horns, 2 trumpets, 2 trombones, timpani, percussion, piano, celesta, harp and strings.
Timothy Brock
(orig. publ. in the catalogue of Il Cinema Ritrovato 2016)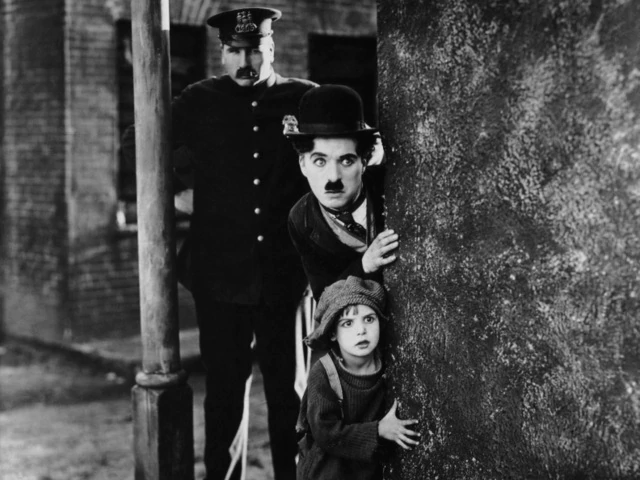 regia/dir, scen: Charles Chaplin.
photog: Roland Totheroh; 2nd camera: Jack Wilson.
asst: Charles ("Chuck") Riesner.
scg/des: Charles D. Hall.
cast: Charles Chaplin (Tramp), Edna Purviance (Mother), Jackie Coogan (The Kid), Baby Silas M. Hathaway (The Kid as a Baby), Carl Miller (Artist), Granville Redmond (His Friend), May White (Policeman's Wife), Tom Wilson (Policeman), Henry Bergman (Art Agent and Night Shelter Keeper), Charles Riesner (Bully), Raymond Lee (His Kid Brother), Lillita MacMurray [Lita Grey] (Flirtatious Angel), Edith Wilson (Lady With Pram), Baby Wilson (Baby in Pram), Nellie Bly Baker (Slum Nurse), Albert Austin (Man in Shelter), Jack Coogan Sr. (Pickpocket / Guest / Devil), Edgar Sherrod (Priest), Beulah Bains (Bride), Robert Dunbar (Bridegroom), Kitty Bradbury (Bride's Mother), Rupert Franklin (Bride's Father), Flora Howard (Bridesmaid), Elsie Sindora (Bridesmaid), Walter Lynch (Tough Cop), Dan Dillon (Bum), Jules Hanft (Physician), Silas Wilcox (Cop), Kathleen Kay (Maid), Minnie Stearns (Fierce Woman), Frank Campeau (Welfare Officer), F. Blinn (His Assistant), John McKinnon (Chief of Police), Elsie Young, V. Madison, Evans Quirk, Bliss Chevalier, Grace Keller, Irene Jennings, Florette Faulkner, Martha Hall, Estelle Cook, J. B. Russell, Lillian Crane, Sarah Kernan, Philip D'Oench, Charles I. Pierce (comparse nella scena del matrimonio/extras in wedding scene), Elsie Codd [Chaplin's English publicity representative], Mother Vinot [studio sewing lady], Louise Hathaway, Amada Yanez & Baby (extras in alley scene), Clyde McAtee, Frank Hale, Ed Hunt, Rupert Franklin, Frances Cochran, George Sheldon (extras in reception scene), Sadie Gordon, Laura Pollard, L. Parker, Ethel O'Neil, L. Jenks, Esther Ralston, Henry Roser (extras in Paradise scene).
prod: Charles Chaplin.
dist: Associated First National Pictures, Inc.
uscita/rel: 06.02.1921.
copia/copy: DCP, 60′ (da/from 35mm, orig.5250 ft.); did./titles: ENG.
Photo: The Kid © Roy Export S.A.S