THE BRILLIANT BIOGRAPH: EARLIEST MOVING IMAGES OF EUROPE (1897-1902) (NL 2020)
Compilation by Frank Roumen
Music by Daan van den Hurk

"Amid the welter of projectors with extravagant names that competed for the public's attention in the very first years of cinema, the Biograph had established itself as a product above the others, with a sharper, steadier, and far larger screen image than any of its competitors, a true source of wonder in all who saw it. The key to this success was the unperforated film of approximately 70mm width that the Biograph projector used, coupled with its choice of international subjects, and a policy of select and classy presentation, with the company controlling all exhibitions that used this unique system."
Two decades later, these lines by Luke McKernan from the 2000 Pordenone Silent Film Festival catalogue for "The Wonders of the Biograph" remain relevant when discussing the new compilation The Brilliant Biograph, funded by the European Commission's "European Tribute to Film Heritage" programme, which has enabled the high-quality digitization of 50 selected films from the collections of Eye and the British Film Institute.
The American Mutoscope Company, founded in 1896, at first primarily intended to concentrate on making flip-card viewing cabinets for individual use. However, it soon expanded its scope to the public projection of films taken with the Biograph camera, and expanded into Europe in 1897, with branches in Great Britain (British Mutoscope and Biograph Syndicate), the Netherlands (Nederlandsche Biograaf- en Mutoscope Maatschappij), Germany (Deutsche Mutoskop und Biograph), and France (Biograph and Mutoscope Company for France). The Brilliant Biograph is a showcase for some of the highlights of these European productions. The compilation is divided into five thematically arranged chapters, providing a tour of Europe (both in space and time) held together by train rides. The selection is not based on historical or geographical accuracy. Instead, the films are put together in an abstract collage to evoke various prominent aspects of turn-of-the-century life, such as urbanization, recreation, tourism, technological innovation, and vaudeville theatre/performances.
The Mutoscope and Biograph Collection contains the oldest films held at Eye Filmmuseum. It includes over 200 films on the original 68mm stock, shot between 1897 and 1902. This constitutes the largest existing collection of 68mm Mutoscope and Biograph films surviving in the world; the only other holdings are at the British Film Institute in London and The Museum of Modern Art in New York.
During the Giornate's 2000 edition, the festival screened a number of Mutoscope and Biograph compilation programs put together by Nico de Klerk. At the time, the films were preserved photochemically by downsizing the 68mm stock to 35mm to allow regular projection. However, developments in digital technology today allow us to go back to the 68mm material and copy it digitally without physically downsizing it. The original system's lack of perforations and the wear and tear resulting from the now non-standard format can also be better addressed with digital restoration, although some marks have been left unremoved since they are inherent to this technology. Combined with the ability to work with and to project big data files, The Brilliant Biograph is an attempt to reproduce the grandeur and brilliance of the original Mutoscope and Biograph films through 8K digitization and 4K DCP projection.
The musical accompaniment for these very short and unrelated films of varying content and rhythm would present a big challenge to any improvising musician. Hence, a special piano score was commissioned, composed and recorded by Daan van den Hurk. His score holds the compilation together, flowing along its structure while also recognizing the intrinsic value of each individual film.
Elif Rongen-Kaynakçi
Production companies: Nederlandsche Biograaf- en Mutoscope Maatschappij (NL); British Mutoscope and Biograph Syndicate (GB); Deutsche Mutoskop und Biograph (DE); American Mutoscope Company (US); Biograph and Mutoscope Company for France (FR).
We wish to acknowledge the contributions of William Kennedy-Laurie Dickson, Eugène Lauste, Emile Lauste, James Welch, Daniel Louis Uyttenboogaart, and all the unknown camera operators and producers who worked for Mutoscope & Biograph.
The compilation features 5 sections, containing the following films (in order of appearance). A complete list of their original film titles is in the credits at the end of the compilation onscreen.

The Irish Mail, UK 1898
I. Daily Life
Recreation in Scheveningen, NL 1898
Countryside near Amsterdam, 1898
Hungarian family, 1897
Pleasure in Berlin, 1899
Public transport in Amsterdam, 1899
Funeral procession in Rome, 1898
Flower Parade in Haarlem, NL 1899
Capuchin monks in Vatican City, 1898
The vegetable market in Venice, 1898
Inventor William Kennedy-Laurie Dickson feeding pigeons in Venice, 1898
Audience leaving Circus Carré after the Biograph show in Amsterdam, 1899
From Monte Carlo to Monaco, 1899
II. Riding the Waves
Malta, 1901
Scheveningen, NL 1898
Muiden, NL 1900
Southampton, UK 1898
The river Zaan, NL 1898
Naval exercise, UK 1899
Portsmouth, UK 1899
Warships, UK/DE 1900
Conway Castle, North Wales, UK 1898 (hand-coloured)
III. Greetings from…
Paris. Place de la Concorde, 1897
Berlin. Altes Museum, Unter den Linden and Friedrichstrasse, 1897 and 1899
London, 1899
Southampton High Street, 1900
Amsterdam. Central Station and Prinsengracht, 1898 and 1899
Venice. Grand Canal and Ponte dei Sospiri, 1898
Maidenhead junction, UK 1898
IV. Moving Forward
Captain Deasy promoting Martini cars, Switzerland, 1903
Launch of the 'Oceanic', the largest vessel ever floated, Belfast, 1899
Iron foundry workers, Newcastle, 1899
The Marvin electric drill, 1898
Sir Hiram Maxim demonstrating his guns, 1897
Advertisement for Rudge-Whitworth bicycles, 1902
Windsor Castle, UK 1899
V. Body in Movement
Agoust family of jugglers, 1898
Upside down boxers, 1899
Orphan girls in Amsterdam, 1899
French military school exercise, 1897
Catching the ferry in Amsterdam, 1899
The island of Marken, NL 1899
Roma camp, 1897
The Tarantella, 1898
At the ancient forum of Pompeii, 1898
'Les Parisiennes', 1897 (hand-coloured)
Special thanks to: Maria-Silvia Gatta, Sara Gayarre-Lete, Jagoda Komusinska, Irina Sofletea (European Commission); Robin Baker, Bryony Dixon, Angela Doane, Nicola Gallani, Fiona Grimes, Annabelle Shaw, Kieron Webb (BFI National Archive); Peter Delpeut, Paul Enkelaar, Maya Rasker, Pieter Rim de Kroon.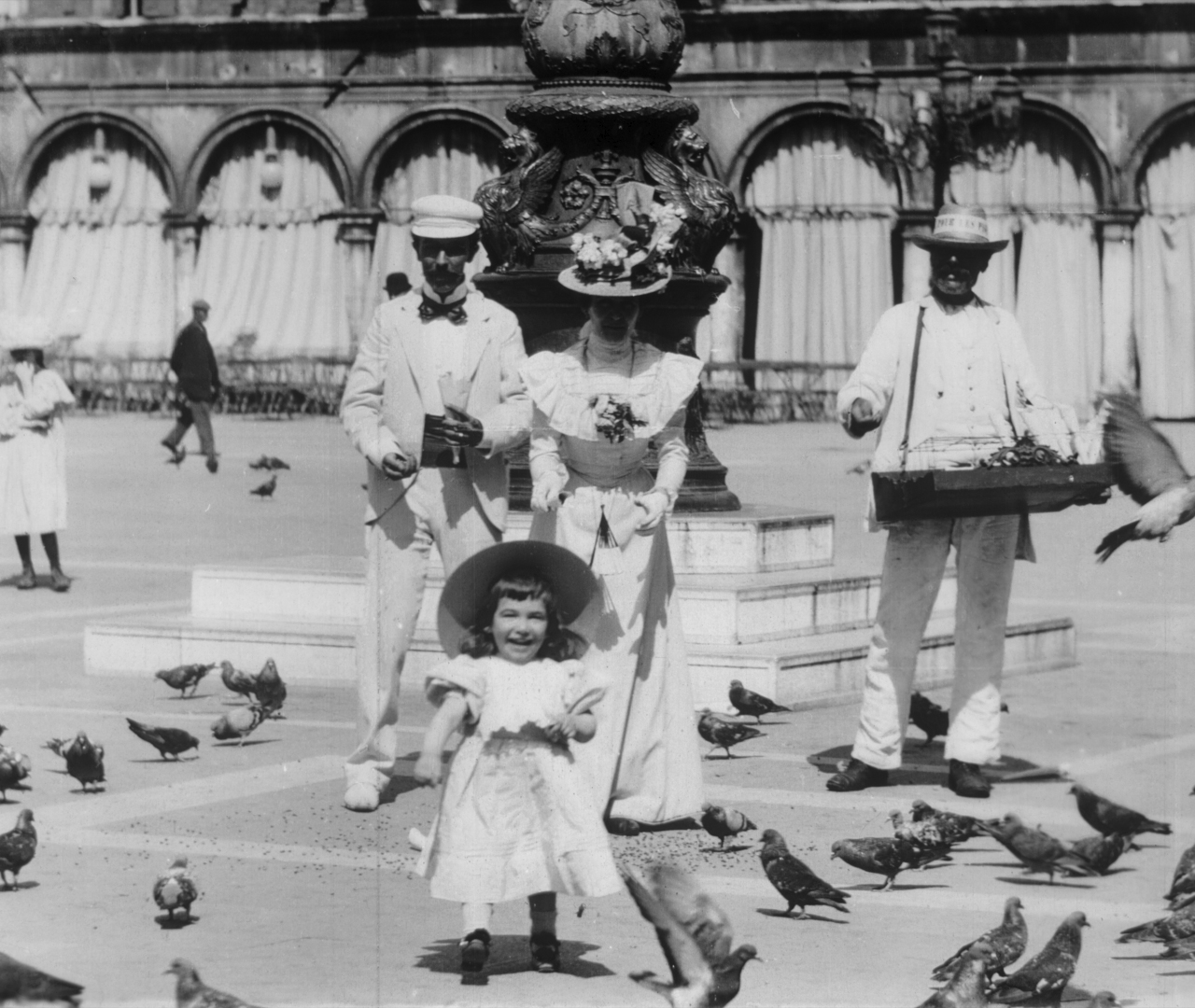 THE BRILLIANT BIOGRAPH: EARLIEST MOVING IMAGES OF EUROPE (1897-1902) (NL 2020)
compilation: Frank Roumen.
curatorial cons: Elif Rongen-Kaynakçi.
advisory team: Giovanna Fossati, Anne Gant, Annike Kross, Mark-Paul Meyer, Bryony Dixon.
supvr restorer: Annike Kross (Eye Filmmuseum). laboratories (8K digitization): Cineric (New York & Portugal), Haghefilm Digitaal (Amsterdam).
mont/ed: Arno Mande (Haghefilm Digitaal).
grading: Gerard de Haan (Haghefilm Digitaal).
mus: Daan van den Hurk (autore, esecutore/composer, performer).
mus rec: Het Muziekpand Studios.
sd engineer: Frank van der Star.
title des: Joseph Plateau (Amsterdam).
prod: Frank Roumen, per/for Eye Filmmuseum.
copia/copy: streaming digital file, 52′ (da/from 68mm); did./titles: ENG.
fonte/source: Eye Filmmuseum, Amsterdam.