SYNNÖVE SOLBAKKEN
(A Norway Lass)
John W. Brunius (SE 1919)
Synnöve Solbakken and Thorbjörn Granliden are children from neighboring farms, one wealthier than the other. Despite the attempt of the devious farmhand Aslak to convince Thorbjörn that Synnöve is in league with the trolls, the two become friends. They grow older and fall in love. Synnöve's parents belong to a very conservative denomination, and they find Thorbjörn unsuitable for her, especially since he has a reputation as a rowdy, and his rival Knud does what he can to get him into more trouble. At the midsummer celebration Synnöve makes Thorbjörn promise to change his ways. While Synnöve is up in the mountains working at her family's summer pasture, however, the schemes of the evil Aslak will threaten both their love and Thorbjörn's life.
Synnöve Solbakken is one of two films based on works by the Norwegian Nobel Prize Laureate Bjørnstjerne Bjørnson produced by Skandia in 1919 in order to compete with its rival Svenska Bio. Not only does the film fit well within the commonly used "Golden Age" criteria as a prestigious production based on an acclaimed literary work, but its filming on location (in the Gudbrand Valley in Norway) is extremely effective, creating an authentic atmosphere as well as playing an active role in the plot. Maybe this is not as clear as in the other Bjørnson film, A Dangerous Wooing (Ett farligt frieri, Rune Carlsten, 1919), where a mountain wall literally stands between the hero and the girl he loves, but in Synnöve Solbakken the landscape also separates Synnöve and Thorbjörn from each other during a critical part of the story.
Compared to the other Brunius film presented in this program, Thora van Deken, Synnöve Solbakken (GB: A Norway Lass) relies on a more static tableau style. A possible explanation for Synnöve Solbakken's different cinematic style may be found in Brunius's visual inspiration from and recreation of paintings by the 19th-century Norwegian artist Adolph Tidemand. The most obvious example is found in the scene of the prayer meeting at Midsummer Eve, which is modelled in detail after Tidemand's famous painting Haugianerne from 1848, but other scenes in the film also bear a close resemblance to Tidemand's pictures.
The direct recreation of famous paintings was a device Brunius would deploy again in his monumental historical films Karl XII (1925) and Gustaf Wasa (1928), in which he reproduced some of the best-known Swedish national romantic history paintings of the 19th century. While these later epic historical dramas impressed with the huge scale of their production, they are overlong and unimaginatively filmed, giving Brunius a partly undeserved poor reputation. His earlier films, both from the early years as Skandia's main director and also those made after the formation of Svensk Filmindustri in 1920, prove him to be both talented and capable of mastering different genres. While both Synnöve Solbakken and Thora van Deken can be characterized as serious dramas, Brunius's directorial debut, Mästerkatten i stövlar ("Puss in Boots", 1918) is a witty comedy, with Gösta Ekman in the title role.
Despite its title, the main focus of the film's story (just as in Bjørnson's novel) is not on Synnöve, but on Thorbjörn, portrayed by Lars Hanson. At the time of Synnöve Solbakken, Hanson was one of the most popular stars of Swedish cinema. Synnöve is played by Karin Molander, who today is better known as a comedienne in four surviving comedies by Mauritz Stiller, notably Erotikon (1920). Lars Hanson and Karin Molander married in 1922. Her film career essentially ended when she followed Hanson to Hollywood in the late 1920s, although she did later appear on stage in Sweden, and while he acted in several Swedish films after the transition to sound, she would appear in only one sound film, in 1954.
The print: A duplicate negative, downsized to Academy ratio, was made from a nitrate positive source in 1981. In 2010 new intertitles made from text cards in the collection of the Swedish Film Institute were spliced into the negative, from which this viewing print was struck the same year.
Magnus Rosborn, Casper Tybjerg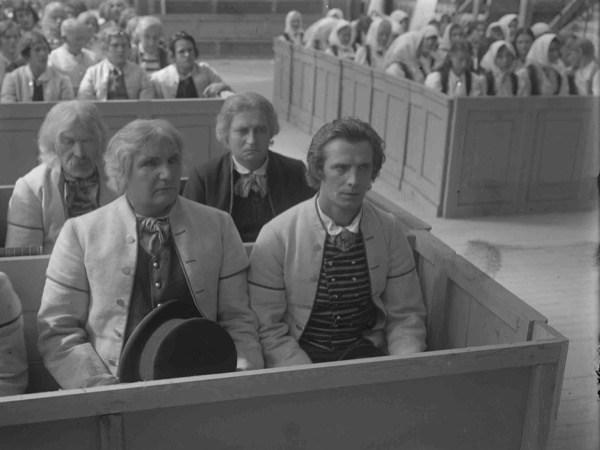 scen: John W. Brunius, Sam Ask.
photog: Hugo Edlund, Arthur Thorell.
scg/des: Gustaf Hallén.
cast: Karin Molander (Synnöve Solbakken), Lars Hanson (Thorbjörn Granliden), Egil Eide (Saemund Granliden), Svea Peters (Ingebjörg Granliden), Hjalmar Peters (Guttorm Solbakken), Ingrid Sandahl (Karen Solbakken), Einar Rød (Aslak), Ellen Dall (Ingrid Granliden), Gösta Cederlund (Knud Nordhaug).
prod: Filmindustri AB Skandia.
uscita/rel: 20.10.1919.
copia/copy: 35mm, 2162 m. (orig. 2235 m.), 95′ (20 fps); did/titles: SWE.
fonte/source: Svenska Filminstitutet, Stockholm.