SUI GRADINI DEL TRONO (De Strijd om een Troon) (On the Steps of the Throne) (IT 1912)
Directed by Ubaldo Maria Del Colle

"Silistria is a great wellspring for cinema!" ["Silistria è un gran paese di risorse per la cinematografia!"] proclaimed Pier de Castello in La Vita Cinematografica (10.1914), a propos Pasquali's 1914 Il mistero di Silistria (The Mystery of Silistria). Whereas in Anglo-Saxon countries Ruritania was the byword for mythical Balkan kingdoms, in Italy, France, and undoubtedly other nations, Silistria or Silistrie was used. In the same periodical earlier that month (07.10.1914, in a review of Zirka), another critic called it "the promised land of cinematic heroes… It is a kind of barracks in which resides a king, a crown prince, great generals, captains, officers, a few soldiers, many spies and a few diplomats… For the past few years it has become the home of all document thefts and all state secrets… Silistrian dramas follow and resemble each other, and all the film studios have recounted various deeds that happen there." ["la terra promessa degli eroi cinematografici…. una specie di caserma nella quale risiede un re, un principe ereditario, dei grandi generali, capitani, ufficiali, pochi soldati, molte spie e qualche diplomatico… Da qualche anno è divenuta la sede di tutti i furti di documenti, di tutti i segreti di Stato… Quindi i drammi silistriani si seguono e si assomigliano; tutte le Case cinematografiche hanno racontato parecchi dei fatti e fattacci che ivi succedono…"]
It's hard to know whether Pasquali's Sui gradini del trono was the first Italian film to be set in Silistria, though it was one of the most influential. The plot takes a number of elements from The Prisoner of Zenda, which was published in serialized form from December 1904 to January 1905 in the Corriere della Sera's offshoot "Il romanzo mensile" (though it may well have been serialized in Italy before then). Silistria is ruled by a regent, Backine, until Crown Prince Wladimiro comes of age – a stretch of the imagination given that Alberto Capozzi, also seen in this edition of the Giornate in Profanazione, looks significantly older than his 26 years. Backine wants him to marry his daughter Alexandra so that he can continue to hold power, but Wladimiro is in love with Princess Olga. A plot is hatched to send him to Paris for a year, accompanied by Backine's henchman Cirillo Sobieksi, to corrupt the prince's morals.
While the bewitching dancer Thaïs aims to beguile Wladimiro, Sobieski discovers that the Spanish dancer Chichito is a dead ringer for the prince. Together with the spurned Thaïs they scheme to trap the Silistrian heir, replacing him with Chichito, who once in Silistria will pretend to be Wladimiro and marry Alexandra. The conspiracy fails when Olga realizes her lover has been replaced, and the prince's loyal fencing master notices that a scar on Wladimiro's arm is not on the man claiming to be the future king. Thaïs feels pangs of remorse and helps the prince escape just before the coronation, when the co-conspirators are exposed.
Sui gradini del trono was written by Renzo Chiosso (1877-1949), a screenwriter who specialized in Silistrian stories, penning Il Romanzo di un Re (Ambrosio, 1914), set in Alidara; La vita per il Re (Pasquali, 1914), set in Oritza ("obviously one of the smaller Balkan States," stated The Thanet Advertiser, 17.04.1915); La Regina Mezurka (Pasquali, 1914) and Il re dei pezzenti (Eridiana, 1919), both set in Silistria (he likely also was behind Pasquali's Silistrian Zirka, 1914). Perhaps all that time spent imagining mythical kingdoms nurtured his imagination, as later he became known for writing science-fiction novels.
By my calculation between 1912 and 1924 there were at least 65 films made in Italy set in mythical Balkan kingdoms, a significant number (though still likely incomplete). The reasons for this interest are varied, starting with Queen Elena, the Montenegrin princess who married the Italian crown prince, Vittorio Emanuele, in 1896 and became the much-loved queen of Italy from 1900 to 1946. It could be argued that the Queen's origins helped in some degree to de-exoticize the Balkans in Italy while still allowing a vague notion of the region, inspired by Anthony Hope and his ilk, to become the preferred locale when the thrill of adventure and royalty was wanted by a public hungry for such tales.
Sui gradini del trono borrows heavily from Zenda with its doppelgänger twist, fencing bouts, and trapdoor skullduggery, a fact that didn't go unnoticed by critics: The Kinematograph and Lantern Weekly (09.01.1913) remarked, "The action of 'On the Steps of the Throne' irresistibly reminds one of novels by Anthony Hope. As in his stories the action is set in a small European principality and the substitution of a double for a real prince forms the backgrounds of a story which provides a wealth of stirring incident…" It's also possible Chiosso was influenced by Nordisk's Den sorte Kansler, released in Italy as Il cancelliere nero in September 1912, just a few months before Sui gradini del trono; indeed, The Kinetradogram (08.01.1913) described the Pasquali film as "belonging to what we might term the 'Black Chancellor' class," and given the costume designer's profligate use of uniforms, with exaggerated designs based on cavalry headgear known as the czapka, it's hard not to recall the line in Sir William Magnay's novel The Red Chancellor (the basis for Den sorte Kansler), when the narrator refers to the cavalry's "theatrical accoutrements."
One of the critics for La Vita Cinematografica (15.01.1913) presciently understood the role this first wave of Silistrian stories played for the filmgoing public, describing Sui gradini del trono as marking a new direction, "an orientation that would satisfy the present-day needs of the public, which today demands subjects of great action, and wants to be captivated by the succession of unexpected events, to live with emotions and thrills, at the cost of departing for a moment from reality…" [un orientamento che appagasse le odierne esigenze del pubblico, il quale oggi reclama soggetti di grande azione, e vuole essere incatenato dal succedersi di avvenimenti imprevisti, vivere di emozioni e di ansie, a costo di allontanarsi per un momento dalla visione reale delle cose….] Much like superhero movies of today, which fill cinemas but exacerbate critics, Silistrian subjects grew wearying for those who had to write about them, such as Guido Landri (in La Vita Cinematografica, 07.02.1915): "it does seem that Pasquali has nothing else on its hands right now, as its favourite residence, but the land of Silistria. Couldn't it just move house?!" ["pare proprio che la Casa « Pasquali » altro non abbia fra le mani, in questi tempi, che la terra di Silistria… come soggiorno preferito. Non potrebbe decidersi a cambiare residenza?!"]
It's impossible to ascertain the original length of the film as distributed in Italy; Vittorio Martinelli gives it as 1,000 metres, but this is a rough figure. The French release (as Sur les marches du trône) was 1,263 metres, while in Britain it was 3,350 feet, and reports of the U.S. release vary between 3,000 and 3,500 feet.
Jay Weissberg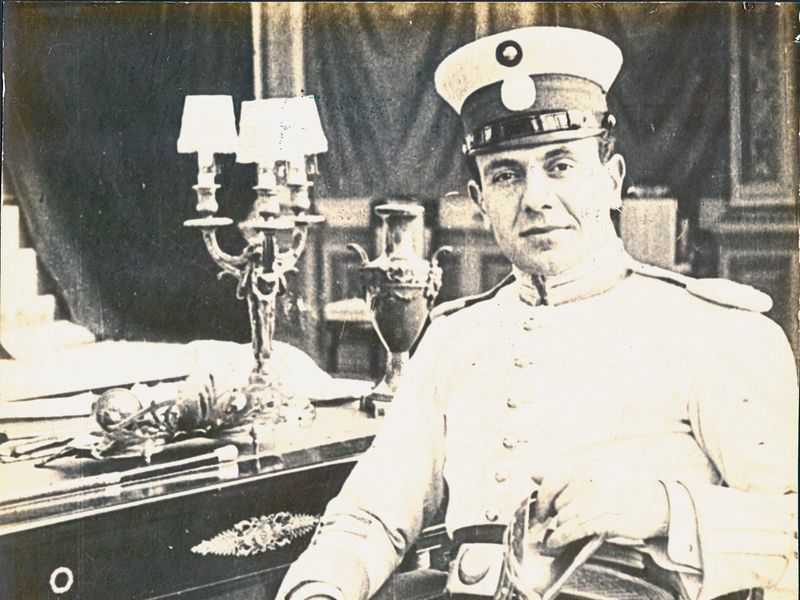 SUI GRADINI DEL TRONO (De Strijd om een Troon) (On the Steps of the Throne) (IT 1912)
regia/dir: Ubaldo Maria Del Colle.
scen: Renzo Chiosso.
cast: Alberto A. Capozzi (Wladimiro/Wladimir; Chichito), Maria Gandini (la principessa Olga), Giovanni Enrico Vidali (il reggente/the regent Backine), Giovanni Ciusa (Cirillo Sobieski/Sobiesky), Orlando Ricci, [Mario Guaita-Ausonia].
prod: Pasquali.
v.c./censor date: 16.11.1914.
uscita/rel: 12.1912.
copia/copy: 35mm, ?? m., 61′ (?? fps), imbibito/tinted; did./titles: NLD.
fonte/source: Eye Filmmuseum, Amsterdam.