SMOULDERING FIRES
(La donna che amò troppo tardi/La Femme de quarante ans)
Working titles: Married Hypocrites; The Marrying Age; Clinging Fingers
Clarence Brown (US 1925)
Having been greatly impressed by Clarence Brown's The Goose Woman, which I found in a British film library, I searched for more films by this remarkable director. Thanks to the BFI's John Huntley, Smouldering Fires came from overseas (an ostrich farm outside Johannesburg, South Africa!). It was more elaborately tinted than any film I'd seen, but then Brown's mentor, Maurice Tourneur, was a tinting fanatic.
The title suggests a Drury Lane melodrama, but the film turned out to be if not quite a feminist film, at least an intelligent, poignant and beautifully filmed story about a 40-year-old woman who inherits a factory from her father.
It opens with a meeting of department directors, as wittily observed as anything by Lubitsch. Jane Vail (Pauline Frederick), called "The Iron Woman" in the script, dresses in mannish clothes and treats her employees coldly. However, one young man, Robert Elliott (Malcolm McGregor) attracts her by his resourcefulness and she hires him as her private secretary. Soon they are taking a Hawaiian cruise together. Factory-floor gossip forces Elliott to propose marriage, but Jane's younger sister, Dorothy (Laura La Plante), returns from college and Elliott and she promptly fall in love. They don't have the courage to tell her, but Jane, already depressed by the age difference, senses what is happening…
The film shows the influence of Lubitsch, especially Three Women (1924) – the plot similarities of which were given prominence in Variety's review – as well as Cecil B. DeMille's Triumph (1924) and Frank Lloyd's Black Oxen (1924).
Clarence Brown told me that Pauline Frederick went through the worst attack of stage fright he had ever witnessed. "She had been a great Broadway star and had made a number of pictures. Her last real success had been Madame X (1920). The first two days on this one I thought she was going to give up. But she was a great artist and pulled through bravely."
Brown took his company to Yosemite, where he had shot so much of The Last of the Mohicans. When the cameraman found a tree obscuring a spectacular vista, and the forest ranger wouldn't allow it to be chopped down, Brown persuaded his leading lady to romance the man until he agreed.
"It was Smouldering Fires that got me my contract with Norma Talmadge," said Brown. "[Producer] John Considine was then working with Joe Schenck. One night he dropped into the Forum Theatre, Los Angeles. He didn't even know what picture was playing. He came in after the titles and thought Lubitsch had made it until he saw the credits 'A Clarence Brown production, directed by Clarence Brown'. He called me on the phone the next day and started talking about a contract. I think I got 12,500 for the five pictures I made at Universal. I jumped to 3,000 a week with Schenck."
Laura La Plante had acquired a l6mm print while working at Warner Bros in England in the 1930s. Had she not been excited by it? "Not particularly," she said. I urged her to screen it. She did so right then and there. I was dismayed to find that this was the foreign version. It was the same film, and yet for some reason it was nowhere near as powerful. I have seen many European versions of American silents, and seldom have they been as effective as the original domestic version. This was often due to the use of second (i.e., inferior) takes, but in this case Bob Gitt assures me that two cameras, set up rigidly side by side, were used for practically every shot.
The cinematographer was the man who wrote the famous manual for cameramen, world-famous as "The Jackson Rose".
Perhaps the most touching performance came from the much-loved veteran character actor Tully Marshall, who was prominent as the Trapper in The Covered Wagon (1923) and the repellent husband in Stroheim's Queen Kelly (1928), and who would play with Garbo in Grand Hotel and Jean Harlow in Red Dust (both 1932).
The outstanding British director Anthony Asquith was a fervent admirer of Pauline Frederick and this film in particular. Smouldering Fires was one of the first films to be reviewed by Graham Greene. Its moral of "marry someone your own age" he tried to impress on his still reluctant fiancée!
Film Daily called it "an unusually fine picture, exceptionally well handled and splendidly directed…. one of the most entertaining pictures Universal ever released." It was remade (without acknowledgement) as Female, directed for Warner Bros. by Michael Curtiz in 1933, with Ruth Chatterton and George Brent, "suggested by a novel by Donald Henderson Clarke". This one ended with the Jane Vail character assuring her husband that he would run the factory (it makes automobiles) while she would stay at home to look after the children.
Kevin Brownlow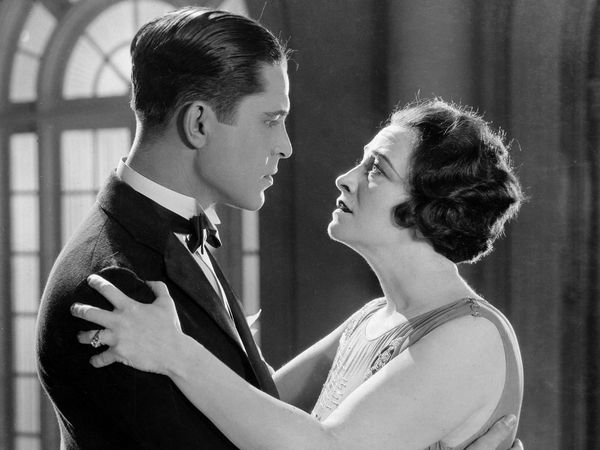 regia/dir: Clarence Brown.
scen: Sada Cowan, Howard Higgin, Melville Brown.
story: Margaret Deland, Sada Cowan, Howard Higgin.
did/titles: Dwinelle Benthall.
photog: Jackson Rose.
mont/ed: Edward Schroeder.
scg/des: E. E. Sheeley, Leo Kuter.
asst dir: Charles Dorian.
cast: Pauline Frederick (Jane Vail), Laura La Plante (Dorothy), Malcolm McGregor (Robert Elliott), Tully Marshall (Scotty), Wanda Hawley (Lucy), Helen Lynch (Kate Brown), George Cooper (Mugsy), Arthur Lake [comparsa nella scena del ballo/extra in dance sequence], Bert Roach, Billy Gould, Rolfe Sedan, Jack McDonald, William Orlamond, Robt Mack, Frank Newberg, Judy King, Betty Morrissey, Olive Hasbrouck [membri del members of Departmental Committee].
prod: Universal-Jewel, pres. Carl Laemmle.
uscita/rel: 18.01.1925.
copia/copy: DCP, 85′ (da/from 16mm; orig. 35mm 7356 ft., 22 fps); did./titles: ENG.
fonte/source: Packard Humanities Institute, PHI Stoa, Santa Clarita, CA.
Restauro effettuato da Robert Gitt impiegando copie 16mm "Show-At-Home". / Restored by Robert Gitt using Show-At-Home 16mm prints from The Packard Humanities Institute (Hampton Collection) and Kevin Brownlow.