PLUS DE CHAUVES (No More Bald Men)
[Theodore Wharton] (FR 1912)
This is a success story for a film which – on the basis of a well-documented identification hypothesis proposed by Dr. Robert J. Kiss, and that we espouse – is a true rarity. As we have observed, to compose its rich catalogue of 28mm offerings Pathé assembled a large number of its own film productions, reviving various past successes. Plus de chauves is not one of these; instead, it is one of the few new titles produced expressly for the Pathé KOK market; it can be considered a remake – if we indulge in using terminology that is a little anachronistic – of the older film Lotion miracolose (1904). We are unable to establish whether the need for a remake arose from technical problems or the need for a more up-to-date stylistic revision. A comparison of the copy presented here with the image of the older film found by Kiss a in British Pathé catalogue from 1904 definitely shows an evolution in the type of mise-en-scène: Plus de chauves has greater attention to detail and the camera is decidedly closer to the action, adapted to an acting style we may easily suppose to be more modern and (to a certain extent) naturalistic. The title does not feature in the FIAF catalogue, but besides the master of the copy shown at this year's Giornate, there is at least one other 28mm copy held in a private collection.
The film opens with a mirror revealing to the disconsolate protagonist the inexorable march of his all-too-evident baldness. To his aid comes the housemaid, proffering a hair restorer that promises miracles. The promises are not empty: a couple of energetic rubs with the lotion and our man finds himself sporting a questionable but luxuriant page-boy hairdo and a beard and moustache fit for a musketeer. Ecstatic at the result, the hirsute hero showers the maid with hugs and kisses, only to see her sprout impressive sideburns. The ending is a trichological triumph in which the formerly bald protagonist finds himself with a look decidedly more untamed than he bargained for. As the saying goes, "Be careful what you wish for…".
The technical success of the excellent close-up shots demonstrates an effective use of stop-motion photography, here placed at the service of an amusing story evidently of considerable impact, given that it appeared with small variations in a number of titles: L'Eau merveilleuse (Pathé, 1901) and La Lotion forcée (Gaumont, 1909), in addition to the 1904 original and this 1912 remake.
Stella Dagna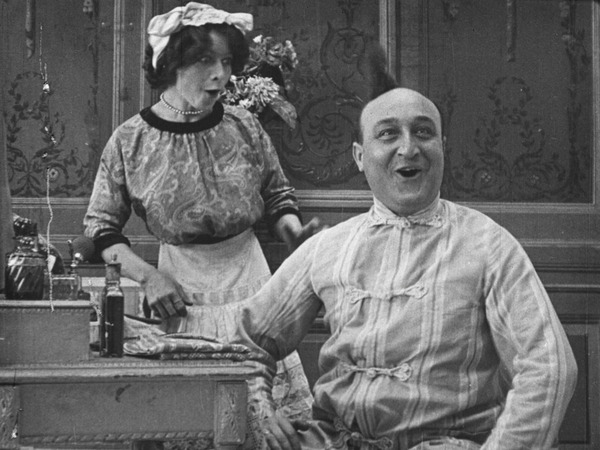 regia/dir: ?.
prod: Pathé Frères.
copia/copy: DCP, 2'35" (da/from 28mm, 34 m., 18 fps); didascalie mancanti/intertitles missing.
fonte/source: Museo Nazionale del Cinema, Torino; Cinémathèque de Toulouse; Cinémathèque de Nouvelle-Aquitaine, Limoges.