PENROD AND SAM (US 1923)
(The Adventures of Penrod)
Directed by William Beaudine
Music by Stephen Horne

Penrod and Sam was a highlight of last year's "Mostly Lost" workshop. And William Beaudine's reputation seems to have risen in direct proportion to the outstanding silents that have been discovered. Two well-researched biographies have appeared, and the fact that he later made films like Bela Lugosi Meets a Brooklyn Gorilla has been forgiven.
William Washington Beaudine joined Biograph in New York in 1909, aged 17. "Griffith was the only director at the time I joined them. I did everything nobody else would do. Bobby Harron was my boss – he was Griffith's property boy and I worked up as Bobby's assistant."
Recently married, he was fired when the studio moved, in 1914. "I didn't know which way to turn when out of a clear sky, Marshall Neilan wired me from the Coast to come out to be his assistant." Neilan was a highly talented, improvising sort of director, and Beaudine learned a great deal. He was a director by the time he was 23, so quick and efficient that he was soon in great demand. He worked for most of the pioneering studios – Kalem, Universal, Keystone, and Christie. He made his first feature for Goldwyn in 1922, and went on to direct Mary Pickford in Little Annie Rooney (1925) and Sparrows (1926).
I first met Beaudine in April 1969. When David Shepard, archivist at the American Film Institute, showed a newly discovered Paramount silent, The Canadian (1926), to an enthusiastic audience at the LA County Museum in late February 1970, Beaudine responded to a standing ovation: "I didn't know I was that damned good. Now find Penrod and Sam."
Beaudine did not live to see it; he died the following month. When Paramount sent their print to the AFI, the tinted 35mm nitrate was in such good shape it was still in its original reel bands. David Shepard and I were surprised to see Ben Alexander as Penrod; having started his career as a small child in D. W. Griffith's Hearts of the World (1918), he grew up to become Jack Webb's patrol partner in the 1950s TV series Dragnet.
Gareth Hughes, an actor from Wales, had been much praised as the star of John S. Robertson's Sentimental Tommy (1921), and there were other significant names in this inexpensive picture: Stroheim discovery Mary Philbin, leading lady of Merry-Go-Round (1923) and The Phantom of the Opera (1925); the two Messinger children, veterans of Sidney and Chester Franklin's Fine Arts and Fox "Kiddie" pictures; and Rockcliffe Fellowes, star of Raoul Walsh's Regeneration (1915) and Clarence Brown's The Signal Tower (1924).
The film is small-scale but full of charm, and the children are extraordinary. Penrod and Sam, inseparable pals, organize a secret society and ensure that Georgie Bassett and Roddy Bitts are not included. When the vacant lot on which the boys play is sold by Penrod's father to Mr. Bitts, Penrod is heartbroken, as his dog has just been buried there. When Penrod's father realizes this, he buys back the lot and presents it to Penrod.
Photoplay was rapturous: "It is delightful in its un-screen qualities, a fresh and diverting study of the small boy rampant. It wasn't easy to develop a series of episodic adventures into a well-knit scenario, but the present adapters seem to have overcome most of the difficulties. No attempt is made toward punches – and yet Penrod and Sam achieves a highly moving moment in the death of the boy's pet dog. Here is tragedy unadulterated. Director William Beaudine has told all these boyish episodes with a gentle and understanding adroitness, aided by a very satisfying cast. It is interesting to note that, along with other moves towards naturalism, all makeup was discarded. Something of a screen classic."
The scenario was the work of a married team – Hope Loring and Louis Lighton – who would write the script for William Wellman's Wings (1927).
Beaudine wrote an article on handling children for a 1924 book, The Truth About the Movies: "Directing children for the screen requires, first of all, an unlimited amount of patience. Children have sponge-like minds which readily absorb the idea you are trying to get over and their vivid imaginations carry them along the same trend of things indefinitely."
The film was made for $70,000 and earned $600,000. The Best Movies of 1922-23 called it "the first successful attempt to reproduce Booth Tarkington's marvellous Penrod stories on the screen" – overlooking Marshall Neilan's Penrod, with Wesley Barry, which had been a hit the year before.
"I was quite a kid director at the time," said Beaudine, recalling, "when Norman Taurog went to do Skippy, he had my Penrod and Sam over at Paramount Pictures for about a month and ran it and ran it and ran it. He'd never made a kid picture before." Skippy (1931), with Jackie Cooper, won the Oscar for Best Director. That same year Beaudine was able to remake Penrod and Sam, always one of his favourite pictures, in sound.
Kevin Brownlow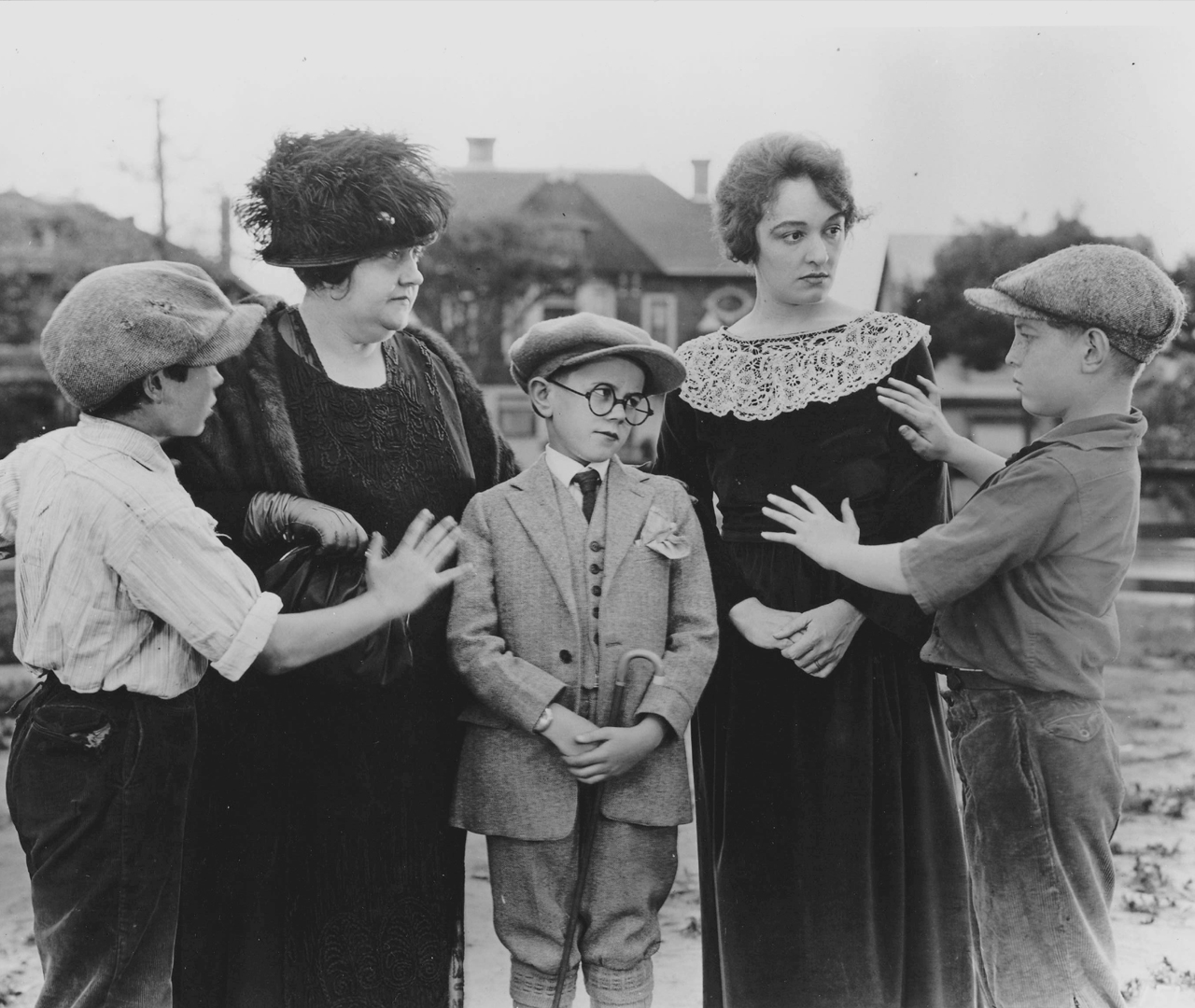 PENROD AND SAM (US 1923)
(The Adventures of Penrod) 
regia/dir: William Beaudine.
scen, adapt: Hope Loring, Louis D. Lighton, libero adattamento dal romanzo/freely adapted from the novel Penrod and Sam (1916) di/by Booth Tarkington.
photog: Ray June, Edward Ulman [Ullman].
mont/ed: Edward M. McDermott.
cast: Ben Alexander (Penrod Schofield), Joe Butterworth (Sam Williams), Buddy Messinger (Roddy Bitts), Newton Hall (Georgie Bassett), Gertrude Messinger (Marjorie Jones, la fidanzatina di Penrod/Penrod's sweetheart), Joe McCray (Verman), Gene [Eugene] Jackson (Herman), Rockcliffe Fellowes (Mr. Schofield), Gladys Brockwell (Mrs. Schofield), Mary Philbin (Margaret Schofield), Gareth Hughes (Robert Williams, il suo fidanzato/her sweetheart), William V. Mong (Roderick Maggsworth Bitts, Senior), Bobby Gordon (Maurice Levy), Victor Potel (Mr. Bassett), Aggie Herring (Mrs. Bassett), Martha Mattox (insegnante/schoolteacher), Cameo (Duke, il cane/Penrod's dog).
prod, pres: J. K. McDonald.
dist: Associated First National Pictures.
uscita/rel: 18.06.1923.
copia/copy: streaming digital file, 84′, col. (da/from 35mm, 6,275 ft., imbibito/tinted); did./titles: ENG.
fonte/source: Library of Congress Packard Center for Audio-Visual Conservation, Culpeper, VA.
Preservazione della/Preserved by the Library of Congress.