OUR PET
Herman C. Raymaker (US 1924)
Like most 2-reel silent comedies this film contains seemingly separate set-ups that somehow are brought together at the end. The first finds a robber breaking into Peggy's bedroom in the middle of the night; she proceeds to cleverly catch the intruder using items from her room. The second part involves a number of young suitors who show up in order to escort young Peggy to dancing school. She panics and hides each new boy, until ultimately leaving the house with one of them, leaving the other boys to fight it out once they discover each other. Luckily, because Baby Peggy is so adorable she manages to wrangle her way out of trouble, and even get rewarded by the end.
This lost Baby Peggy short was a remarkable find by the Japanese benshi Ichiro Kataoka. Kataoka won a Tokyo auction in 2016 for a 9.5mm print, Peggi no Tegara (literally, "Peggy's Achievement"). The 9.5mm print was actually dated 1931, and gave the releasing studio as Okita, from Dairen-Manchuria. Sadly, while much of the world's 9.5mm releases are well-known, released in many different countries under the same titles and numbers, the Japanese market is often hard to decipher due to the lack of available catalogues and proper translations. For instance, Reel S 472 released by the Banno shop literally translates as "Sausage of Ozwald," which could be a lost Disney title, or might be something entirely unrelated. We will never know until a print turns up.
9.5mm prints generally have exceptional picture quality since Pathé often (for better or worse) used the original negatives to create the reduction elements. Sadly this does not seem to be the case with this Japanese release. Perhaps the labs were not as skilled, or, more likely, the source material for American silent films wound up being prints. The 9.5mm print of Our Pet looked like a decent dupe, so preservation has been long and tedious trying to get the most out of what little information was left in the very contrasty print. At one point there is even a printed-in damaged section from the 9.5 negative, cutting the image in half.
To reconstruct the titles we had two different Japanese speakers translate the titles into English, and then conducted a sort of e-mail roundtable discussing the proper 1920s colloquialisms. Once we settled on the wording we shot new titles on 16mm. The rest of the project was scanned at 3K, cleaned and stabilized frame-by-frame, and then output back to 35mm film.
Dino Everett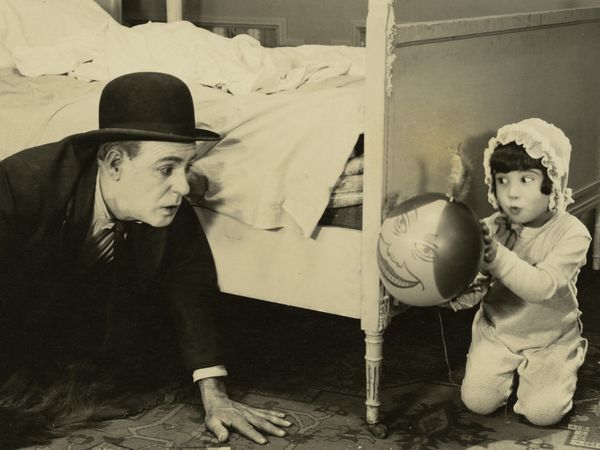 regia/dir: Herman C. Raymaker.
cast: Baby Peggy (Peggy), Joe Moore (poliziotto/cop), Billy Franey (ladro/burglar), Edna Gregory (la madre di Peggy/Peggy's mother), Harry Archer (il padre di Peggy/Peggy's father), Kenneth Green, Newton Hall, Winston Radom, Verne Winter, Donald Condon (gli amici di Peggy/Peggy's boyfriends).
prod: Century Film Corp.
dist: Universal.
uscita/rel: 11.05.1924.
copia/copy: 35mm, 1000 ft. (1 rl.), c.15′; did./titles: ENG.
fonte/source: Hugh M. Hefner Moving Image Archive, University of Southern California School of Cinematic Arts, Los Angeles.