MAX, DER ZIRKUSKÖNIG (AT 1924)
(Le Roi du Cirque; Il domatore dell'amore; US: King of the Circus; GB: Circusmania) 
Édouard-Émile Violet
Variety appears to have been the first to announce, in June 1923, that René Hervil and Max Linder had been signed by Ernst Szücs of the Vita-Film studios in Vienna to make a circus film titled Clown aus Liebe. Linder's film would effectively open the studio at Rosenhügel, which hosted its inauguration on 1 December, the day after Linder's delayed arrival. Szücs and company were delighted to have signed Linder, and expected great things for Austrian films due to the attention from around the world that Linder would bring them, yet the star's tardy appearance in Vienna proved to be a bad omen, and journalists soon divided themselves between detractors and sycophants. Felix Fischer, a detractor, wrote in Neues Wiener Journal that by 19 January 1924 not a metre of film had been shot: "Once, a scene was almost shot," reported Fischer. "In it, his partner [Vilma Banky] has to stretch out her hands against him. She did it for four hours, but when he was finally satisfied with her pose, she developed a cramp in her arms, and the filming had to stop again." In the same journal a few days later (24.01.1924), Fischer amended some of what he had written, admitting, for one thing, that progress was indeed being made on the film, with 10,000 metres having been shot to date. Fischer also reported that Édouard-Émile Violet had arrived about 14 January to replace Hervil, who had a heart attack that demanded his return to Paris. Whether or not Linder was the cause was not specified; it's also unknown whether any of the material Hervil shot was retained in the final film.
Other writers (the sycophants) came out in strong support of Linder and against Fischer. A writer at Der Filmbote [Film Messenger] (26.01.1924) argued that Linder had been too long in the film business to postpone filming by "chicanery." Das Kino-Journal (26.01.1924) seconded this writer's assertions, noting that "the hysteria described in the article [Fischer's] is not to be found in Max Linder, but in the author, who was in the unusual position of writing an original report for his readers, which made him nervous as a result of the rarity of such an activity for him."
The press went quiet on the subject of Linder and his Vita-Film adventures until 23 February, when Linder and his wife Ninette were reported to have attempted suicide the night before by taking too many Veronal pills. Once recovered, and to counteract whatever bad press this incident might evoke, on 21 March (and in the following days) Linder called in both the public and the press to kibitz on his lion-taming scene in the film. The fact that several long articles on the spectacle hit the press that week suggests that Linder was successful in diverting attention away from his own personal problems and back to the film in progress.
In many ways, Max, der Zirkuskönig (as it was released in Austria) harks back to a formula Linder used in many of his shorts for Pathé: the ne'er-do-well son of a prominent aristocratic family is given an ultimatum, in this case to marry or be disowned. He finds a girl, but not the right one, and must impress her father with some talent he doesn't have by either learning it or pretending to have done so – convincingly. Besides Linder, the film featured Hungarian actress Vilma Banky, just one year away from bigger stardom in America. Circus animals, props, and performers (Fred Boston and Walter Corty) were provided by the Hagenbeck circus.
With the film completed about 10 April, it was soon screened for the press in three different locations:  in Vienna at the Haydn Kino on 23 May, in London at the Scala on 12 June, and in Paris at the Empire on 9 July. Its official premiere took place the night of 12 September at the Cinema Royal in Rotterdam. Film-Kurier (17.09.1924) provided a fair and unvarnished account of the film and its star: "This Max Linder, who can almost be considered a historical phenomenon today, is still amusing. … What captivates about Linder time and again is the virtuosity with which he can turn his body into an instrument of comical effects. … His art of performance is not rooted like that of a Chaplin in a deep human pity for the pariahs of this earth, nor in a hatred against the figure to be embodied, … but he has fun with the ridiculousness of the figure, which is at most sometimes elevated to a mild irony." As is often the case with one's native country, the French were less kind, with one critic remarking that "Max Linder appears to us as brilliant as he has always been, but this very invention is sometimes exercised to the detriment of the subject. There are too many scenes that have nothing to do with the action. … Max Linder is always above his films." (L'Intransigeant, 28.02.1925)
There would be no second Linder film at Rosenhügel. It had become clear by the end of the shoot that the experience had not been a good one for Szücs or his studio. In fact, Variety announced (23.09.1924) that Vita-Film was bankrupt, only a year after opening its doors with the most advanced and modern equipment in the film business. This would be Max Linder's final film. Despite his attempt to fulfill a long-held dream of marriage, children, and a happy home, he took the life of his young wife and then his own just a short time later, on 31 October 1925. – Lisa Stein Haven


The restoration  For decades Max, der Zirkuskönig has been one of those legendary films thought lost forever, alongside The Patriot (Lubitsch), The Four Devils (Murnau), The Way of All Flesh (Fleming), Humor Risk (the Marx Brothers), Her Friend the Bandit (Chaplin), Hats Off (Laurel and Hardy), and the full version of Greed (Stroheim).
In 1993, the Cinémathèque Royale de Belgique undertook a first attempt at reconstruction using elements known at the time. But digital technologies were still a long way off, and the very incomplete result was so difficult to watch that the film only gained the reputation of a minor and still unprojectable work.
25 years later, the new reconstruction initiated and carried out by Lobster Films – for which the identification and collection of the elements will have taken almost 10 years – is a major event. It brings together 11 different sources, from Great Britain, The Netherlands, Austria, Spain, Sweden, Ukraine, Argentina, etc., many of which were unknown a quarter of a century ago, in order to give back to the film a sense of continuity and completeness. The CNC played a large part in supporting this project.
Some shots come from first-generation prints, and now look almost perfect. Others are true survivors after dozens of generations, sometimes in 16mm. They are like ghosts, spooky visions of their original appearance. But at least they are here, and the technologies and patience of the restorers have returned them to life.
Of course, some shots are from the A negative (domestic) and others from the B negative (export). We have had no choice. We are aware of the questions raised by this reconstruction, but if our aim is to get as close to a complete film as possible, then this is the situation at hand, until perhaps a complete copy is found somewhere. When a boat sinks, you don't choose the color of your life jacket!
No original titles have survived in French or German, so we also had to select and translate the intertitles as closely as possible from various languages, where local humor was often added.
One of the most complex and acrobatic restoration projects is now completed. This film, lost for nearly a century, will re-premiere in Pordenone in 2021. Max Linder, the "King of the Circus", is finally back, in his circus act. A cheerful, magnificent film, long awaited…
Most of all, many thanks to all of our predecessors in this endeavour, and to all the archives around the world who have helped us locate or access surviving material. – Serge Bromberg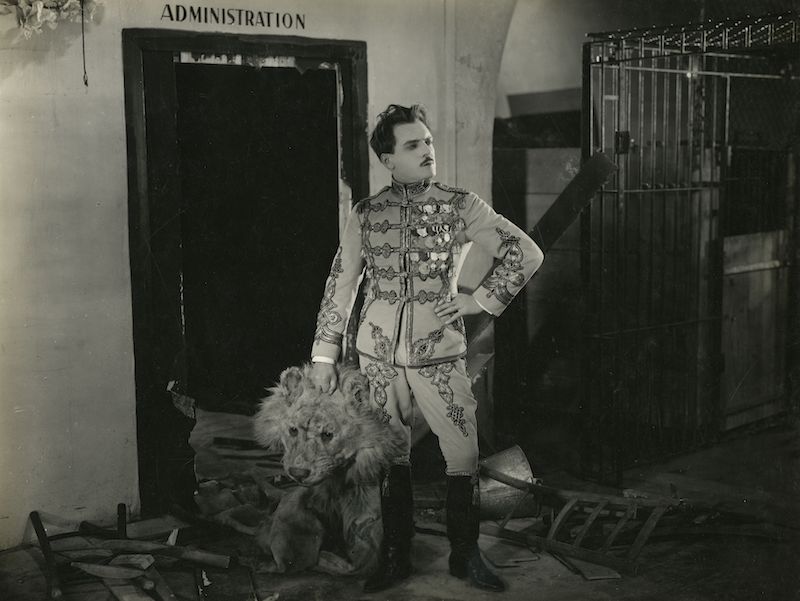 MAX, DER ZIRKUSKÖNIG (AT 1924)
(Le Roi du Cirque; Il domatore dell'amore; US: King of the Circus; GB: Circusmania)
regia/dir: Édouard-Émile Violet, assisted by Max Linder.
scen: Max Linder. photog: Eduard Hösch, Jószef [Joseph/Josef] Bésci.
scg/des: Alexander Ferenczy, Franz Meschkan.
cast: Max Linder (Count Max de Pompadour), Vilma Bánky (Ketty), Eugen Burg (lo zio di Max/Max's uncle, the Marquis de Pompadour), Viktor Franz (l'inquilino del piano di sotto che cerca di dormire/Max's downstairs neighbor trying to get some sleep), Eugen Günther (Max's valet John), Julius von Szöreghy (il direttore del circo, padre di Ketty/Ketty's father, the circus director), Fred Boston (Ketty's partner Emilio), Walter Corty (The clown), Kurt Labatt, Hans Lackner, Ilona Karolewna, H. Eckbauer (trapezista/trapeze artist), Maria West (donna al/woman at the Palais Montmartre).
prod: Vita-Film AG.
v.c./censor date: 03.09.1924 (DE).
uscita/rel: 12.09.1924 (Rotterdam: Cinema Royal, Cinema Thalia), 19.09.1924 (Berlin: Deulig-Palast Alhambra), 26.09.1924 (Austria), 19.02.1925 (Paris: Aubert-Palace).
dist: Quittner, Zuckerberg & Co. (AT), Etablissements Louis Aubert (FR).
copia/copy: DCP, 64′ (da/from ??, orig. 1613 m./1700m., ?? fps), b&w, alcune scene imbibite/some tinted scenes; did./titles: FRA.
fonte/source: Lobster Films, Paris.