L'HOMME DU LARGE
(La giustizia del mare)
Marcel L'Herbier (FR 1920)
A leading light of the first French avant-garde, Marcel L'Herbier (1888-1979) was originally a playwright, poet, and musician. Assigned during the First World War to the Army's Section Cinématographique, he was deeply shocked by what he saw. In 1917 he wrote his first screenplay, Le Torrent, for the Éclipse studios, and in 1918 he moved behind the camera with Rose-France, an unusual and innovative cinematic "collage".
The following year L'Herbier signed with Gaumont to make films under their "Série Pax" banner, for whom he made L'Homme du large, inspired by the Balzac short story "Un drame au bord de la mer". All the exteriors were shot in Brittany; the team notably included the young Claude Autant-Lara (set designer, assistant, writer, extra) and an acting student at the Conservatoire, Charles Boyer, making his screen debut in the supporting role of Guenn-la-Taupe (literally, Guenn-the-Mole).
The story follows the fate of a simple Breton fishing family. The father, Nolff, has two great passions: the sea and his son Michel, whom he seeks to mould in his own image. But the adolescent is too spoiled, and despises their rough existence. He dreams only of the city and its pleasures. Pursuing a cabaret dancer, he lies, drinks, resorts to violence, goes to prison, and ends up stealing money left by his dead mother. Nolff, who up until then has shut his eyes to it all, then decides to deliver his son to the judgement of the sea…
When the film was first rediscovered in the 1960s, some historians found the plot too symbolist, even bordering on caricature. The characters seemed to them to be archetypes, artificial figures, remote from the authentic psychology of their particular milieu. Yet this critique should rather be applied to Balzac's short story, which relates the story of a young couple who discover a recluse living in a cave. This individual, a Breton fisherman, ended up killing his degenerate son, and since then has observed a vow of silence. The narrator (Louis Lambert, a minor recurring character in the Comédie Humaine) is an idealistic and hypersensitive young man. He and his fiancée Pauline are deeply disturbed by the story of the recluse, Cambremer, who seems to symbolize one facet of the human condition. In fact, Balzac categorized "Un drame au bord de la mer" as one of his "Études philosophiques".
L'Herbier retains the main aspects of Cambremer's destiny, fleshing out the context and modifying the end (which becomes a happy ending). It is true that he enhances Balzac's intended dimension of classical tragedy, bending it to his symbolist vision; but it is precisely the contrast between the prosaic aspect of the fishermen's lives and the mystical tonality of the drama that creates a strange and potent work.
The flashback structure, original for the period, creates a continuity increasingly liberated from any kind of linearity. L'Herbier's film technique is purposely visible, constituted of artful visual devices (stylized photography and framing, masking, imaginative transitions, medallion-like images placed over the main frame, a generous use of double exposures) that refute the naturalism of the Breton landscapes, transforming them into visual variations.
L'Herbier also mingled his Parisian actors with the local population, as in the sequence of the outdoor village fête, a moving period document, which leads to scenes shot in the studio, set in a low-life bar. This is graphic storytelling, with symbolic elements serving to elevate this sailors' cabaret to the essence of a sordid dive. The bar extras are full of character, with real "mugs"; a rat clings to a birdcage… Two lesbians kiss, followed by a close-up of the hand of one caressing the knee of the other. This last was a step too far for the censors, who demanded it be cut!
The choice of tints (selected personally by L'Herbier, and recovered – along with the stylized intertitles – by the restoration of the CNC), played an active part in the lively, complex montage. The scene in the dive, tinted blood-red, thus takes on a striking dimension, and the sea is once more a deep, almost unreal blue.
Using a story of family conflict, Marcel L'Herbier (who had always been fascinated by the sea) elevates the symbolic opposites of earth and water, of the tainted modern world and the timeless purity of the ocean. Long unrecognized, L'Homme du large is the first milestone in the career of its creator.
Mireille Beaulieu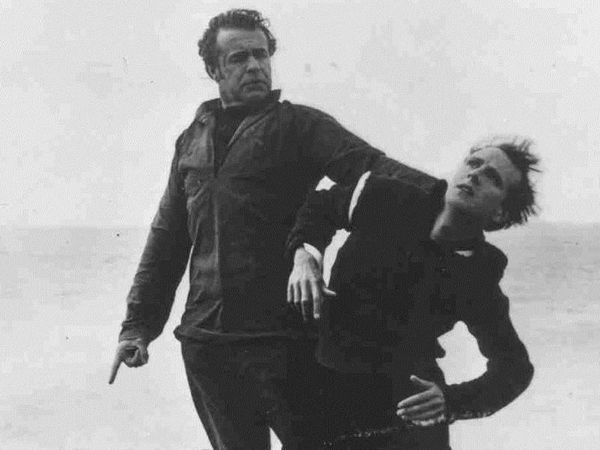 regia/dir: Marcel L'Herbier.
scen: Marcel L'Herbier, dal racconto di/based on a short story by Honoré de Balzac ("Un drame au bord de la mer", 1834).
photog: Georges Lucas.
scg/des: Robert-Jules Garnier, Claude Autant-Lara.
mont/ed: Marcel L'Herbier, Jaque Catelain.
asst dir: Philippe Hériat, Claude Autant-Lara, Dimitri Dragomir.
cast: Jaque Catelain (Michel), Roger Karl (Nolff), Marcelle Pradot (Djenna), Claire Prélia (la madre/the mother), Suzanne Doris (Lia), Philippe Hériat (il protettore di Lia/Lia's protector), Charles Boyer (Guenn-la-Taupe), Pâquerette (la tenancière/manageress), Lily Samuel (ballerina/a cabaret girl), Georges Forois (il pescatore/the fisherman), Claude Autant-Lara, Dimitri Dragomir, Jeanne Bérangère, Jane Dorys, André Daven, Marcel Raval. prod: Gaumont (série Pax).
riprese/filmed: studio La Villette; Bretagne.
dist: Comptoir Ciné-Location Gaumont.
anteprima per esercenti/trade screening: 30.10.1920.
uscita/rel: 03.12.1920.
copia/copy: 35mm, 1731 m. (orig. 1890 m.), 75′ (20 fps), col. (imbibito/tinted); did./titles: FRA.
fonte/source: CNC – Centre national du cinéma et de l'image animée / Gaumont Pathé Archives, Saint-Ouen, Paris.