LADY WINDERMERE'S FAN (US 1925)
Ernst Lubitsch
Music score: Carl Davis
Performed live: Psappha Ensemble (UK); Jennifer Langridge (cello), Benedict Holland (violin), Matteo Andri (piano)
Conductor: Carl Davis
Music performed by arrangement with Faber Music, London on behalf of Carl Davis
Ernst Lubitsch never discussed what led to his audacious decision to adapt Oscar Wilde's famously talky stage play Lady Windermere's Fan as a silent film in 1925. Personally, I would like to think it was a gift to Irene Rich, the actress whose sublime performance – as the tolerant queen to a philandering king – in Lubitsch's first American film, Rosita, effectively stole the film from its ostensible star, Mary Pickford. Rich's Queen already possesses the qualities of Wilde's heroic Mrs. Erlynne: discernment, discretion, an acceptance of human imperfection, and the wit and patience to deal with it.
Whatever its origins, Lubitsch's Lady Windermere's Fan stands as one of the great achievements of silent film, an alignment of form and feeling that grows more impressive with each viewing. By eliminating the play's most famous element – the endless succession of epigrams, delivered by diverse characters who all seem to have exactly the same sense of humor – Lubitsch shifts his emphasis to the thoughts behind the mask of language, as revealed through gestures, looks, postures, and the way his characters navigate spaces both domestic and public.
In the brilliant opening sequence, Lubitsch establishes the complicated relationship between Lady Windermere (May McAvoy) and her ardent admirer, the notorious flirt Lord Darlington (Ronald Colman), moving from a balanced two-shot into an isolated close-up of their handshake, as Darlington's grip registers a bit too warmly for Lady Windermere's comfort. They separate, interrupted by Lord Windermere (Bert Lytell), who has just received an enigmatic note from Mrs. Erlynne (Rich). Darlington notices that Windermere is trying to hide the note from his wife, and another close-up of hands shows Darlington helpfully pushing the envelope back into Windermere's grasp – one man of the world helping another to cover up a billet doux. After Windermere hurriedly retreats, the couple remain in awkward silence. Lubitsch cuts to an extreme long shot, for the first time revealing the extraordinary height of Harold Grieve's stylized sets. The two retreat to separate spaces in the vast room. They are reunited in medium shot only when Darlington feels empowered to make a declaration: "Lady Windermere, I have a bit of news that might interest you." After she joins him, he proclaims "I love you!" They separate again, this time exchanging positions in the set, in long shot. Lubitsch fades out on this sudden expansion of space, which looms like an unresolved chord over the scenes that follow.
This is a stunning display of technique, beyond all but a few directors of the period, yet Lubitsch is careful to follow it with a sequence of perfect simplicity: Mrs. Erlynne at her desk, holding her head for a moment, then turning to look at a portrait of Lady Windermere in a society paper. From a close shot of the photo Lubitsch moves into a slightly tighter shot of Mrs. Erlynne, as a little smile of pride plays on her lips. As she looks away, the character goes inward – signaled by a microscopic shift in Irene Rich's regard as she looks away from the paper, eyes briefly closing. A slowly exhaled breath covers the cut to a slightly wider angle, as Mrs. Erlynne pulls herself out of the past, and prepares to deal with the present. What technique there is here is purely in the service of the actor, as Lubitsch steps back and allows Rich to fill out her character, finding pride, regret, determination, and a hint of irony in one crystalline moment.
As his admirer Alfred Hitchcock, another exponent of "pure cinema," would do decades later in Vertigo, Lubitsch quickly exposes the big revelation that is central to the source material. Mrs. Erlynne is Lady Windermere's mother, erased from family memory because of an affair that even Mrs. Erlynne no longer seems to remember. Again, a simple gesture completely recasts the action; only the viewer is aware of Mrs. Erlynne's essential nobility, as she moves toward the moment of sacrifice, ready to throw away her painfully regained reputation in order to prevent her daughter from committing a mistake exactly like her own.
Announced in June 1925, Lady Windermere's Fan went into production in August, with Clive Brook cast as Lord Darlington. Brook was soon replaced by Ronald Colman, borrowed at great expense from Samuel Goldwyn, and principal photography began at the end of September. Filming was completed by the end of October, following a location jaunt to Toronto, for several days of filming at the Woodbine Racetrack. Lubitsch himself handled the editing, and the film premiered in New York City in December.
Mordaunt Hall of the New York Times (28.12.1925) deplored Lubitsch's revision of Wilde: "… he has nevertheless fashioned an entertaining picture which will probably be more popular in provincial communities – where Lubitsch is better known than Wilde – than a production that retained Wilde's nimble wit." But most of the critics saw a classic in the making. A typical response was William A. Johnson's in Motion Picture News (12.12.1925): "Never before, to me at least, has the screen fairly talked – and with such a brilliancy, forcefulness and finish. Lubitsch tells in a flash, and with lasting effect, what novels must explain in chapters. This, it seems to me, is the inherent power of the screen. Lubitsch has brought it forth in all its fullness."
This new digital restoration of Lady Windermere's Fan is based on a 35mm nitrate print purchased from Warner Brothers in the 1930s by Iris Barry, the first director of the Department of Film of The Museum of Modern Art. Scanning and clean-up were performed by Image Protection Services under the supervision of MoMA's chief preservationist, Peter Williamson. The project was made possible by the generous financial support of Matthew and Natalie Bernstein. – Dave Kehr

The music  In every café, private party, and hotel foyer in Oscar Wilde's London would be, discreetly placed, a small group of musicians providing a sonic background to the social scene. They would be playing arrangements of operatic arias, marches, sentimental ballads, and, above all, waltzes. Without making direct quotes, I have attempted to evoke, using a trio consisting of a solo violin, a cello, and a piano, the era of this play, premiered in 1892 and set in the heyday of the Palm Court Orchestra. Although Ernst Lubitsch's 1925 Hollywood film is made-up and costumed in contemporary style, there are no Charlestons here. The tone of the score is STRICTLY Victorian! – Carl Davis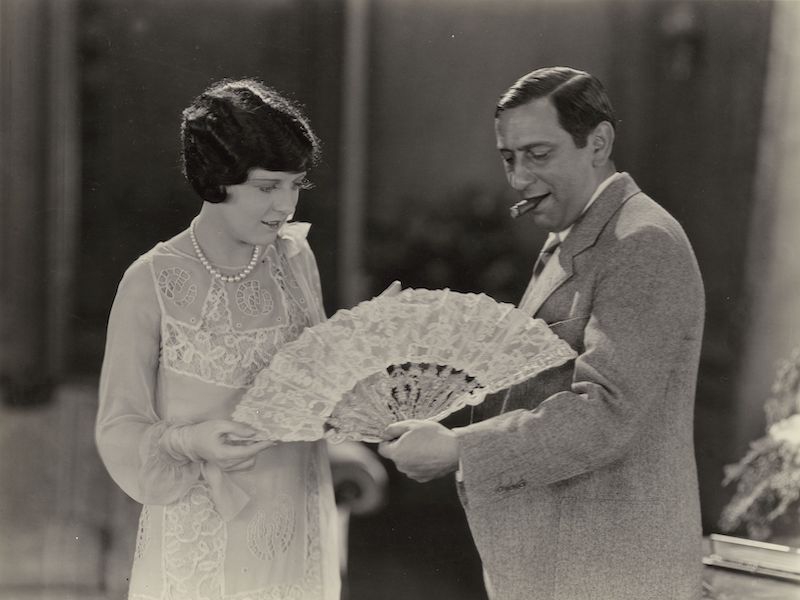 LADY WINDERMERE'S FAN (US 1925)
regie/dir., mont./ed: Ernst Lubitsch.
scen/adapt: Julien Josephson. Dalla pièce di/Based on the play by Oscar Wilde (St. James's Theatre, London, 1892).
did./titles: Maude Fulton, Eric Locke.
art titles: Victor Vance.
photog: Charles Van Enger.
scg/des: Harold Grieve. cost: Sophie Wachner. cast: Ronald Colman (Lord Darlington), May McAvoy (Lady Windermere), Bert Lytell (Lord Windermere), Irene Rich (Mrs. Erlynne), Edward Martindel (Lord Augustus Lorton), Mme. [Carrie] Daumery (la duchessa/The Duchess of Berwick).
asst. dir: George Hippard, Ernst Laemmle.
prod: Warner Bros. Pictures.
première: 01.12.1925 (Casa Lopez, New York).
uscita/rel: 26.12.1925 (Warners' Theatre, New York City).
copia/copy: DCP, 94′ (da/from 35mm nitr. pos., 21 fps); did./titles: ENG.
fonte/source: The Museum of Modern Art, New York.
Restauro realizzato da/Restored by The Museum of Modern Art, con il sostegno finanziario di/with the financial support of Matthew & Natalie Bernstein.