Synopsis: Renato De Ortis is the last scion of a wealthy noble family genetically disposed to madness. Notwithstanding the fact that he is rich, titled, and loved by the sweet Liana, Renato is tormented by the fear that he may lose his mind like his ancestors. His friend Alfredo Ariberti, a novelist, contacts Dr. Valenti to show Renato that his worries are no more than nonsense. This is the starting-point for a hilarious plot involving psychotherapy and madcap escapades, with a happy ending for our protagonist.
Carlo Campogalliani (1885-1974) was certainly one of the most exuberant and inventive figures in the first half-century of Italian cinema. He began his acting career with Milano Film (a small role in Giuseppe De Liguoro's King Lear, 1910), and then moved to Flora Film in Tuscany. In 1911 he worked for the Pasquali and Savoia production companies in Turin, again in minor roles, until 1913, when he appeared as Griso in Eleuterio Rodolfi's I Promessi Sposi (The Betrothed). He began working behind the camera in 1915, and while playing countless roles in his own films, he directed over 70 titles during both the silent and sound eras.
A pragmatic figure – actor, cameraman, director, and producer – Campogalliani initiated a partnership with Letizia Quaranta, who later became his wife, and together they created a series of films that sought an alternative path for popular Italian cinema in the 1920s. He mused about this in an interview with Giuseppe Lega in 1928 (Cinemalia, vol. II, nos. 9-23, 1 Oct-1 Dec 1928; reprinted in Almanacco del cinema muto italiano, 1988): "I founded Campogalliani & Co. in partnership and collaboration with the lawyer Carlo Pollone, with whom I wrote six films for the new production house, directing them and acting in them with my wife: La tempesta in un cranio, Bersaglio umano, La signora delle miniere, La droga di Satana, Un simpatico mascalzone, and Ted l'invisibile." "I know all six of them," says Lega. "Did you like them?" asks Campogalliani. "Very much, especially because they had a truly praiseworthy moral content." – "That's just it. I've always believed in cinema in that way. For me a film that fails to demonstrate something has no value. Cinema must be a messenger for propaganda: for righteousness, for goodness, for honesty, for the noblest human and societal feelings. In short, it must educate while entertaining."
La tempesta in un cranio, released in 1921, was the first of the six titles produced and written by Carlo Campogalliani, in which he also acted. The film was modelled on American plays and adventure movies, but with an entirely distinct cultural context. The plot steeps itself in some of the newly established aspects of psychoanalysis, combining them with the fantasy-driven adventures of the main character. The events are based on a book – fictitious, but lending the storyline authority and scientific basis – with the title Tempest in a Cranium. A Hygienic Tale for Curing Neurasthenia, by Alfredo Ariberti. Campogalliani doesn't hold back, and like another Saetta [literally, "lightning bolt"; screen name of Domenico Gambino (1890-1968), sidekick to Maciste and star of his own action films], he races around, falling and getting up again, escaping up ladders that lead him into an empty sky. He invents a character and aligns himself with that fraternity of actors whose physical agility and speed were so much a part of Italian cinema in the 1920s. But it's psychoanalysis and a breathless chase that give this film its unique mix for the period in Italy, with dementia turning into dream adventures where anything goes – for example, an experiment in "phototelephonophotography" in which Campogalliani and Quaranta try out a sort of ancestor of the smartphone, used to prevent an ambush. In its review, La Vita Cinematografica underlined the film's qualities: "Simple in plot, attentive in script, not over-rich in detail, and with meaningful, well-composed scenes, the film constantly holds the spectator's attention, without ever being tiresome."
Contemporary words like these capture the energy of Campogalliani's filmmaking, particularly here, in La tempesta in un cranio, in which the centre of interest is the spectator, drawn in with such a truly crazy story that it still entertains us today.
Ahead of its Rome premiere, the film was presented in Britain with the title Kill or Cure, at the London Independent Film Trading (L.I.F.T.) Trade Show in mid-June 1921, and received extremely positive notices in The Bioscope, which described it as a "super-thriller with a strong vein of comedy" (09.06.1921). Later that month (23.06.1921), its reviewer wrote, "Certainly a sensational drama, this ingenious story includes in its closely-packed five reels most of the thrills usually to be found in a fifteen-part serial." Campogalliani was described as "the Italian Fairbanks", and his name was anglicized to Charles Campana.
Matteo Pavesi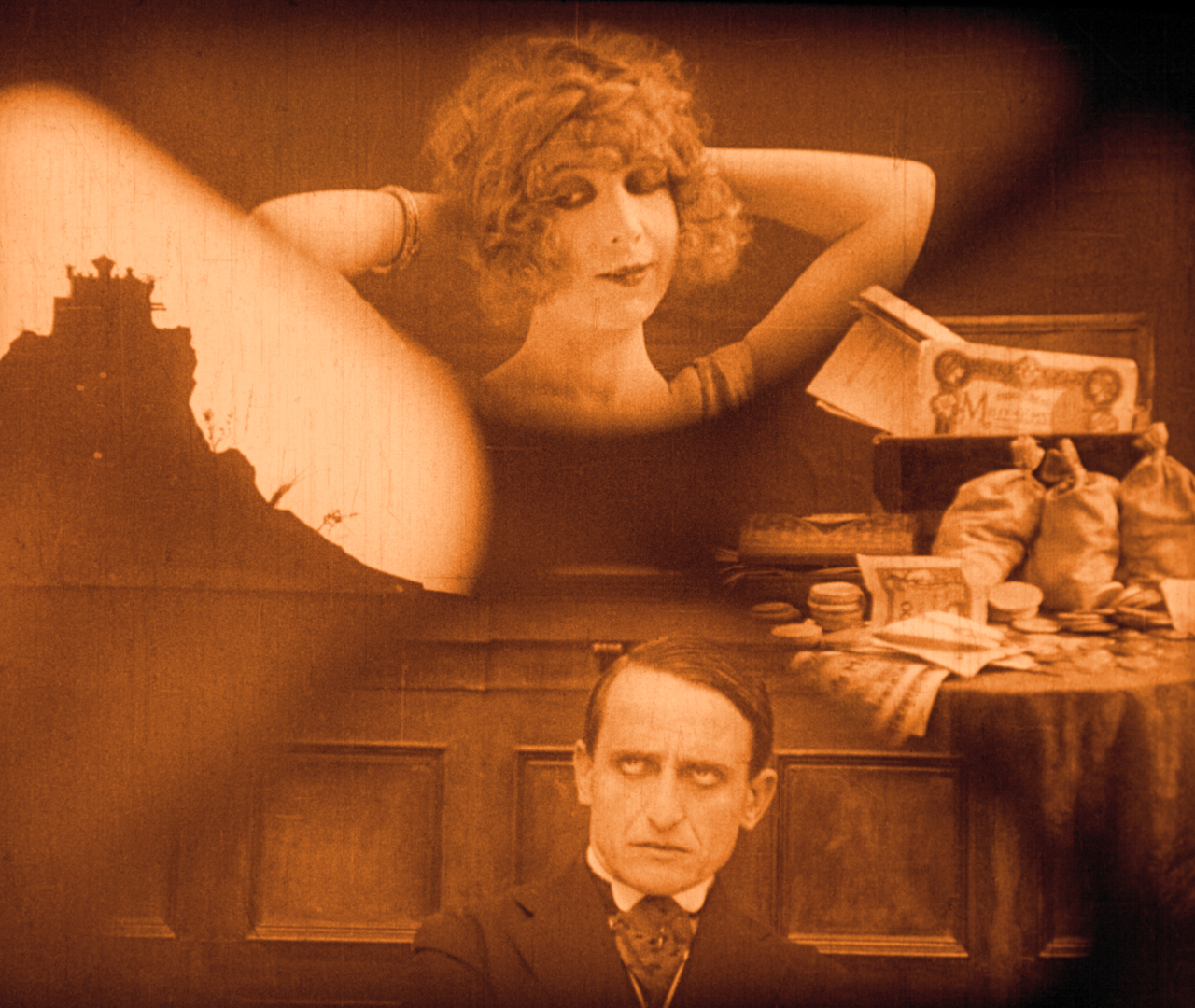 LA TEMPESTA IN UN CRANIO (IT 1921)
(GB: Kill or Cure)
regia/dir: Carlo Campogalliani.
scen: Carlo Campogalliani, Carlo Pollone.
photog: Fortunato Spinolo, Giuseppe Testa.
scg/des: Cesare Gheduzzi.
cast: Carlo Campogalliani (Renato De Ortis), Letizia Quaranta (Miss Letty), Felice Minotti, Ugo Uccellini, [Dillo] Lombardi, ? Benfenati, ? Cuneo.
prod: Campogalliani, Torino.
dist: U.C.I;
v.c./censor date: (15717), 01.01.1921.
première: 13.07.1921 (Roma).
copia/copy: streaming digital file, 70′ (da/from 35mm nitr. pos., 1620 m., imbibito e virato/tinted & toned); did./titles: ITA.
fonte/source: Fondazione Cineteca Italiana, Milano.
Restauro 2k effettuato nel 2020 a cura di MIC LAB di Fondazione Cineteca Italiana di Milano a partire da un nitrato positivo d'epoca in deposito dal 1947, imbibito e virato, della lunghezza di 1620 metri. / 2K digital restoration by MIC LAB of the Fondazione Cineteca Italiana, Milan, from a tinted & toned period nitrate print stored there since 1947.