LA COUSINE BETTE
Max de Rieux (FR 1928)
The multi-faceted Max de Rieux, whose key years working in film stretched from 1926 to 1934, was not solely a director; later, in 1948, he worked with Marcel Pagnol on the continuity of La Belle meunière. He was also a scriptwriter and actor between 1923 and 1932, and appeared  in several films during the early 1960s. He staged several operas, and was stage manager at the Opéra Comique from 1938 to 1945, and then at the Paris Opéra from 1946 to 1957.
He filmed La Cousine Bette in 1927. By all accounts it was an ambitious project to take on Balzac's penultimate novel, both a turning-point and compendium of the Comédie Humaine, the fulfilment of a transformation that would perhaps change the entire course of 19th-century French literature. While the novelist seemed from the very first scene to get to the heart of an ongoing drama (evil having been done from its opening pages), with the sordid meeting between Baroness Hulot and the banker Crevel, de Rieux, who also wrote the script for his film, begins his narrative with the genesis of the Hulot household. It is during a prologue, as a matter of fact, that Baron Hulot, serving in a military campaign in the Vosges in 1810, meets Adeline. This decision to return to the origins already indicates how the director sought to insist on the destiny of sublime aspirations, which time would dissolve through the triviality of an existence animated by dark impulses. By way of contrast, it was also a way of underlining the desolation and shame of a present truly removed from its romantic premises. From this moment on, the film cannot help but describe a fateful mechanism. Starting with a romantic encounter, it ends with the spectacle of organic decay.
De Rieux lends Balzac's novel a baroque dimension, serial-like and often frightening. The observation of human weakness and the superiority of vice over virtue provides the pretext for a sometimes grotesque overload, an escalation in which humanity's monstrosity finds itself symbolized, for example, by a capuchin monkey – the creature guarding the residence of Josépha, mistress of the érotomane Hulot, a revolting caricature of the human bestiary. And it is with frenzied lashes of the whip that the Brazilian Baron Montès de Montejanos (already an exotic addition in the novel) punishes Valérie Marneffe, the woman who had been his unfaithful mistress, and who later dies poisoned.
But the qualities of Max de Rieux's film go beyond the mere figurative exaggeration of these base passions. Violence is above all made palpable by the mise-en-scène itself. Plays of expression and sudden, inserted close-ups describe a bloody contest between predators, who are defined by deadly envy and debauchery. And in an hallucinatory final sequence, the film opens into a visual and geometrical abstraction, leading into a sort of Mediaeval vanitas.
Jean-François Rauger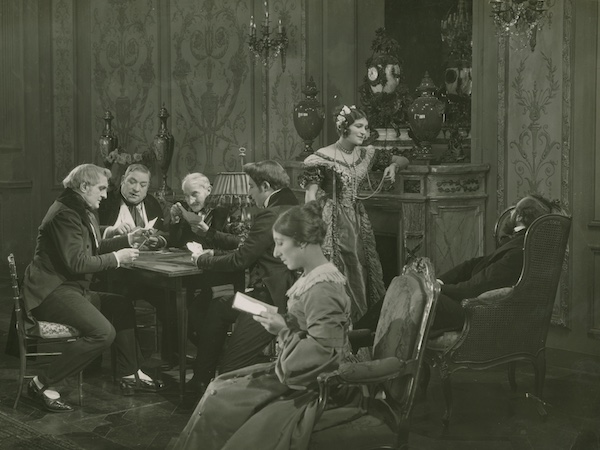 regia/dir: Max de Rieux.
scen: Max de Rieux, dal romanzo di/based on the novel by Honoré de Balzac (1846).
photog: Maurice Guillemin.
scg/des: Claude Franc-Nohain [Claude Dauphin];  scenari realizzati da/decors executed by: Jules F. Garnier.
cost: Edouard Souplet.
parrucche/wigs: Maison Pontet.
asst. dir: Cyril Godonoff.
cons: Marcel Bouteron.
loc. mgr: Pierre Duvivier, asst. Tahar Hanache.
cast: Alice Tissot (Cousine Bette), Germaine Rouer (Valérie Marneffe), Suzy Pierson (Josépha), Andrée Brabant (Hortense Hulot), Maria Carli (Adeline, Baronne Hulot), Jane Huteau/Jeanne Uteau (Cadine), Henri Baudin (Baron Hector Hulot), Charles Lamy (Monsieur Marneffe), François Rozet (Comte Wenceslas Steinbock), Mansuelle (Monsieur [Célestin] Crevel), Léon Guillot de Saix (Claude Vignon), Pierre Finaly (Baron Nucingen), Nell Haroun (Baron Henri Montès de Montejanos), Eugène de Creus (Maréchal Hulot), Marcel Blancard (Victorin Hulot), Réval (Stiedman), Vera Dachelle (Olympe Bijou), Chimène.
riprese/filmed: 1927 (Gaumont studios, Paris; les Vosges, Château de Noisiel).
prod: Charles Pichon, Astor Film.
dist: P. J. de Venloo.
riprese/filmed: 1927.
uscita/rel: 11.07.1928.
copia/copy: 35mm, 2389 m., 105′ (20 fps), col. (imbibito/tinted); did./titles: FRA.
fonte/source: Cinémathèque française, Paris.
Restauro/Restored 1991.