LA BATTAGLIA DALL'ASTICO AL PIAVE (IT 1918)
La battaglia dall'Astico al Piave was made by the Italian Royal Army Film Department in 1918, and testifies to the events between 14 and 30 June 1918 which decided the outcome of the Second Battle of the Piave, when the Italian army under the command of General Armando Diaz defeated the Austro-Hungarian Empire, heralding its decline and ultimate downfall. Four versions of the film have been documented to date: the 1918 Italian and French versions; a 1918 "2,000-foot" Scottish version; and a later version released in 1927. This restoration aims to reconstruct the Italian edition of 1918.
More film materials allowed the reconstruction of the 1918 Italian version, principally the footage dubbed Witness "K", from the Associazione Kinoatelje, which turned out to be the key material for the reconstruction of the 1918 Italian version (a 35mm nitrate, first-generation tinted and toned print, with original Italian intertitles, and handwritten information about editing and the colour palette on the film edge). Several other missing sequences were found in the Cineteca del Friuli and at Lobster Films (nitrate prints and preservation masters that reflect the 1918 French version) and in the Archivio LUCE (a duplicate negative, in 4 reels, with flash intertitles that reflect both the 1918 and 1927 versions). The final sequence of the film came from Archivio Storico – Cineteca Milano (a 35mm tinted nitrate print made close to the 1927 re-release and digitized by MIC Lab); we found a further missing scene in Dio segnò i confini d'Italia (1918) at the Museo Nazionale del Cinema of Turin (a 35mm dupe negative digitized at 4K by the Museum). Currently, we are analysing several materials preserved by the Library of Congress, having spotted a few other missing shots.
Several non-film material sources supported and validated the restoration and reconstruction, framing the Battaglia in an entangled network of sources and practices: bulletins (Gazzetta Ufficiale del Regno d'Italia) and journals (e.g., The Bioscope, Kinema, Il mattino illustrato, Giornale del Mattino, and Il Resto del Carlino) which attest to the circulation of the film between 1918 and 1933 in several countries and cities. Furthermore, we gathered many other primary sources, such as military archive records (USSMI), books, diaries (such as the diaries of Captain Maurizio Rava and Lieutenant Luigi Marzocchi), and photographs of the same events taken by Italian Royal Army photographers. We were thus able to date and locate most of the sequences in the film. By comparing diaries, moving images, and pictures we could observe key moments from a prismatic historical point of view, as the Battaglia was told visually and in writing from different complementary angles and voices. Specialized scholars gave us fundamental help to identify, locate, and date sequences and find other witnesses and sources, such as the Turin and Library of Congress film materials. For this, we would particularly like to express our gratitude to Alessandro Faccioli (University of Padua) and Livio Jacob (La Cineteca del Friuli). We would also like to thank Camillo Zadra (director of the Italian War History Museum in Rovereto) and Elena Nepoti (Imperial War Museums, London).
At present the reconstruction covers about 90% of the Italian edition (ca. 1169 metres out of the 1255 metres recorded by the censorship visa). This exceptional result has enabled us to restore an important slice of Italian World War I film heritage, and indirectly resolve and clarify the relationships and contaminations between several films and documents of the period. – Serena Bellotti, Daniela Pera, Simone Venturini
Questa scheda è il risultato del lavoro di una più ampia équipe tecnico-scientifica comprendente/This film note is written on behalf of a wider technical and scientific work team which includes  Anna Donati, Petra Marlazzi, Gianandrea Sasso, Giacomo Vidoni.
Per il loro fondamentale sostegno e la loro collaborazione gli  autori ringraziano/For their fundamental support and collaboration, the authors thank  Elena Beltrami, Serge Bromberg, Patrizia Cacciani, Roberto Della Torre, Alessandro Faccioli, Livio Jacob, Fabrizio Micarelli, Elena Nepoti, Gabriele Perrone, Sarah Pesenti Campagnoni, Andrea Tessitore, Camillo Zadra.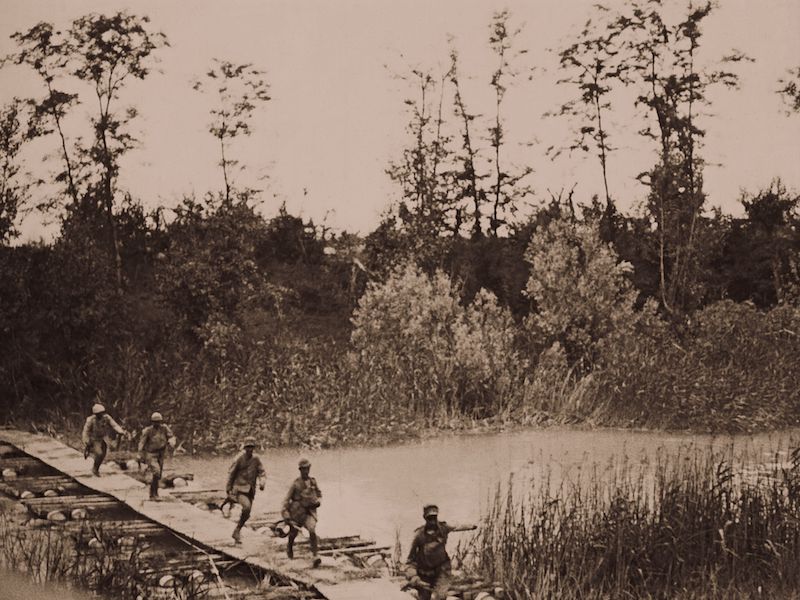 LA BATTAGLIA DALL'ASTICO AL PIAVE (IT 1918)
prod: Sezione Cinematografica Regio Esercito Italiano.
riprese/filmed: 14.06.1918 ‒ 30.06.1918; esterni/locs.: Monte Valbella, Col De Rosso, Costalunga, Col Moschin, Montello, Candelù, Ponte di Piave, Sile, Nervesa della Battaglia, Piave, Ferrara, Orgiano.
v.c./censor date: 11.07.1918 (no. 13649, 1255 m.).
uscita/rel: 24.07.1918, Bologna (Teatro Comunale); 07.08.1918, Paris (Lutetia Movie Theatre); riedizione/re-release: 06.1930 (Brescia), 13.02.1933 (La Spezia, Teatro Civico).
copia/copy: DCP, 57′ (da/from 35mm, c. 1169 m., 18 fps), imbibito/tinted); did./titles: ITA.
fonte/source: Università degli Studi di Udine.
Restauro/Restored: Università di Udine, 2021; in collaborazione con/in collaboration with: La Cineteca del Friuli, Istituto LUCE, Kinoatelje, Cineteca Milano, Museo Nazionale del Cinema, Lobster Films; progetto finanziato da/funded by MiBACT/MiC.