I PROMESSI SPOSI
Mario Bonnard (IT 1922)
Score: Valter Sivilotti
Performed live by: Nuova Orchestra da Camera "Ferruccio Busoni" with Orchestra Naonis
Conductor: Massimo Belli
Co-production: Piano Fvg, Sacile
It would be difficult to overstate the importance of Alessandro Manzoni's novel I promessi sposi (The Betrothed) within Italy, or to explain its curious lack of fame outside the peninsula. First published in 1827, decades before the unification of Italy, yet set in the 17th century, the book was a key text in fostering the notion of Italian nationhood and is required reading by every schoolchild.
The great Italian novel par excellence, I promessi sposi (The Betrothed) was the subject of several silent film versions. The first, produced by Luca Comerio in 1908, is now unfortunately considered lost. Manzoni's famous masterwork has always attracted filmmakers. A literary connoisseur like Mario Bonnard cannot have been immune to the fascination that its characters, settings, and adventures could bring to the big screen. In late 1921 he was already preparing the production of I promessi sposi, and shooting began in early 1922 at the Cines studios in Rome. Bonnard's production company was linked to Cines, which soon after was completely absorbed by Unione Cinematografica Italiana (U.C.I). This was a detail of some importance, as in autumn 1922 U.C.I. reacted to the crisis engulfing it by stopping work and putting "the negatives of four big films under lock and key", including I promessi sposi. This did not prevent Bonnard from submitting the film to the censorship commission on 12 November 1922. It was first shown in 1923, at the Esposizione Internazionale di Fotografia, Ottica e Cinematografia in Turin, where it was awarded the Gold Medal for Italian films, and Mario Bonnard and Giuseppe Vitrotti each received certificates, as artistic director and technical director respectively.
Contemporary documents reveal that the version shown at this first screening was 4,016 metres long and lasted four and a half hours – too long for that period, and it was decided that it should be cut to go easier on audiences. However, the censor's permit, already applied for earlier, specifies a total length of 3,816 metres, with the film divided into two parts. Which indicates a second version. To judge by the length and running time of the film now being presented at Pordenone, there was a third version, possibly the one that was shown at the first public screenings that took place in Turin from 3 to 20 December 1923, which were enthusiastically received by a total audience of "almost two hundred thousand spectators".
The tangled process of production and distribution have not made it easy to trace the film's history. But it is interesting to note, thanks to additional film sources, that from 1923 to 1925 I promessi sposi was shown in a number of Italian cities, including Florence and Milan, pleasing critics and audiences alike. Watching the film, it is easy to see why. Its crowd scenes, long battle sequences, psychological characterizations – rendered largely through telling close-ups – and deftly unconventional direction make it a successful and visually striking work. One memorable moment is the overhead tracking shot of Don Rodrigo's long dining table. The scenes alternate between action sequences and situations grouped in linear narrative episodes, with several interesting usages of cross-cutting, transitions, and subdivision of the frame into different planes of action and tempo. Art director and costume designer Camillo Innocenti's clever reconstruction of interiors and management of extensive outdoor locations earned praise, saying that he "had brought to life [17th-century] Milan under the times of Spanish rule". The naturalistic acting, never excessive, alternates melodrama with comedy, in a finished product which is pleasing and never "over the top".
The film was digitally restored in 2K at the Cineteca Italiana in Milan, starting with the original nitrate negative and a comparison with the tinted 35mm nitrate print held by the Cineteca Nazionale in Rome, which also provided the intertitles. Regarding the titles, it is interesting to note that during the conservation work it was possible to identify, concealed by a layer of colour, the Cines logo, effaced and replaced by that of U.C.I. The Svenska Filminstitutet made available a 35mm nitrate positive element with two different tints – a censor cut requested for the film's release in Sweden, which was authorized on 17 April 1926. This fragment can be seen as an extra in the DVD edition of the film published by the Cineteca Italiana. The film was re-edited and distributed in a sonorized version by Pittaluga in 1934. The silent version will be presented this year at the Giornate with a new original score by Valter Sivilotti
Marcello Seregni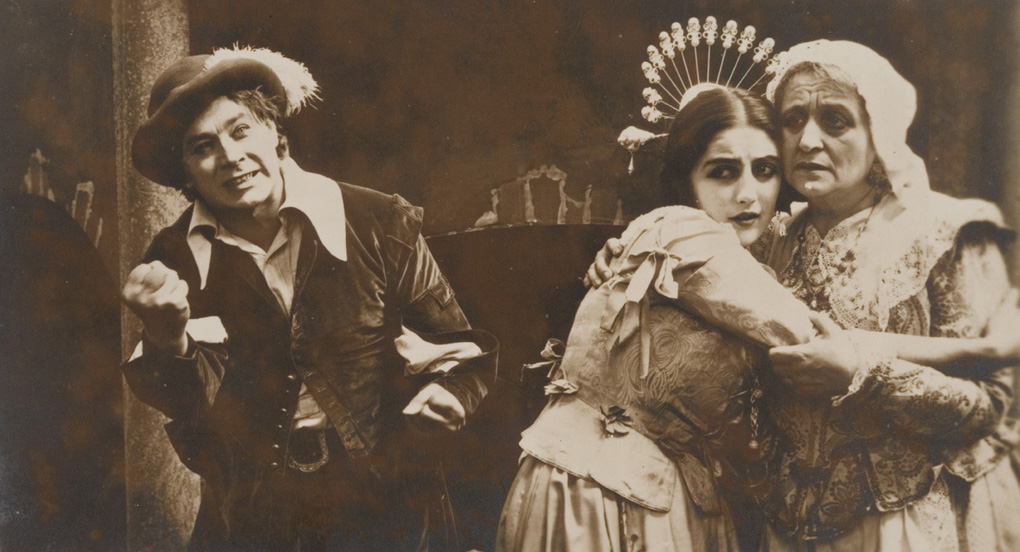 regia/dir: Mario Bonnard.
adapt: Mario Bonnard, dal romanzo di/from the novel by Alessandro Manzoni (1827).
photog: Giuseppe-Paolo Vitrotti.
scg/des, cost: Camillo Innocenti.
cast: Emilia Vidali (Lucia), Domenico Serra (Renzo), Ninì Dinelli (la monaca di Monza/the Nun of Monza), Mario Parpagnoli (Don Rodrigo), Rodolfo Badaloni (l'Innominato/The Unnamed), Umberto Scalpellini (Don Abbondio), Ida Carloni-Talli (Agnese), Raimondo Van Riel (il Griso), Rinaldo Rinaldi (lo Sfregiato/Scarface), Olga Capri (Perpetua), Enzo Biliotti (fra'/Brother Cristoforo), Bonaventura Ibañez.
prod: Bonnard-Film, Roma.
dist: U.C.I.
v.c./censor date: 30.11.1922 (2 ep., n. 17553-17554).
uscita/rel: 27.12.1923 (Roma).
copia/copy: DCP, 130′; did./titles: ITA.
fonte/source: Cineteca Italiana, Milano.
Restauro effettuato nel 2015 a partire da un negativo nitrato della Cineteca Italiana e da un positivo nitrato imbibito della Cineteca Nazionale, Roma / Restored 2015 from a nitrate negative from the Cineteca Italiana and a tinted nitrate print from the Cineteca Nazionale, Roma.