DER HUND VON BASKERVILLE
(Il cane dei Baskerville) [The Hound of the Baskervilles]
Richard Oswald (DE 1929)
An e-mail making the rounds from Moscow started it. Did I know about a vanished German film with Czech intertitles currently being stored in Poland's national archive? The film in question was Der Hund von Baskerville, an obscure version of the Sherlock Holmes novel directed by Richard Oswald that had long been considered lost – unseen since its debut in 1929 – and now little more than a rumor.
No, I did not. In fact, I soon learned, the discovery had a whiff of international intrigue, if not in Conan Doyle's style, then in Eric Ambler or Graham Greene's. In 2009 a 35mm print was found in Sosnowiec, Poland, not far from Krakow, along with nine other silent films, their existence revealed by what Conan Doyle would have called "an odor of decay and heavy miasmic vapor." They had been stored – some accounts say hidden – in the basement of a parish priest named Jerzy Barszcz, who had had a weakness for collecting foreign silent films  and screening them for friends during Poland's tumultuous post-war era. One story claimed that the films came from a fellow seminarian who had connections with a Czech distributor in Brno. Hence the Czech-Polish pipeline for old German films of no commercial value in the Soviet era.
After Father Barszcz died, Poland's Filmoteka Narodowa acquired the collection, but the archive felt obliged to keep a low profile about the acquisition. Financial and political factors prevented an immediate restoration, and so Der Hund remained untouched for the better part of a decade. However, a partnership with the San Francisco Silent Film Festival created in 2015 broke the Gordian knot, and this year in early May the restored film at long last made its debut.
What we discovered was a triple threat – a charming Saturday matinee entertainment, but also a landmark of sorts (the last silent Sherlock Holmes film ever made) and something of a revelation. Mainly, however, it proved a strange, curious hybrid. The film channels Conan Doyle, but it also descends from a uniquely German line of Hound adaptations. The film is recognizable as the Holmes Hound, but Oswald is also borrowing from earlier German theatrical and film versions (including a play he wrote in 1906 and a bizarre movie version he wrote for Rudolph Meinert eight years later). Secret panels, a suit of armor with moving eyes, and Stapleton's diabolical booby traps are all taken from earlier German Hunden, complete with juicy add-ons. Stapleton now has a bow and arrow, and for some reason a portrait of the hellhound, a cross between a dog and a dragon, hangs in Baskerville Hall. Holmes gets slimed in an underground mud slurry; and a telephone with an extra-long cord is turned into a diabolical tool. The wittiest innovation: Watson reads Edgar Wallace's Der Zinker (The Squeaker) in bed while the boards creak in the Hall. Could Watson merely be imagining Edgar Wallace's squeak, or is the squeaker real? More intriguing, could Oswald be plugging his production company's 1929 film version of Der Zinker, also featuring villainous Fritz Rasp?
So, Conan Doyle purists are hereby warned. But what makes this fun, rather than simply absurd, is the great energy Oswald gives the story, and the lessons he has learned from the great German masters, particularly Paul Leni. Leni's American productions of The Cat and the Canary and The Man Who Laughs had enjoyed considerable success in Berlin, and Oswald applies the chiaroscuro lighting, odd angles, and creep-along camera movements to play up the frightfulness.
He also gives the film an international cast – the six leads come from six different countries – and even though made by a small (some might say "fly-by-night") Berlin studio, lavish sets and bravura camerawork. Oswald's Holmes is Carlyle Blackwell, an American with a colorful acting career starting as a matinee idol for Vitagraph in 1910, and more recently playing leading roles in British features. His Holmes projects the genial warmth of a brainy cruise director perpetually on the alert for new fun. He plays off George Serov's bashful Watson, acting the adoring naïf to the genial, smiling master. Modern audiences may find Serov hard to take, but he gives personality to a character who up to then had been notoriously colorless or missing altogether in Holmes silents.
The best-known actor in the cast, however, is Fritz Rasp, as the villainous Stapleton. He is one of the few Germans in the cast (the film's Sir Henry Baskerville is Italian; Beryl Stapleton is Austrian; Dr. Mortimer is Czech; Barrymore's wife the film's only Brit). But Rasp too is overwhelmed by the film's true scene stealer: the Hound's moor, a vast indoor set built inside the abandoned Staaken zeppelin hangar, surpassing in enormity even what 20th Century-Fox built for Basil Rathbone ten years later.
The film never came to the United States or to any English-language country, but it played from one end of Continental Europe to the other. When Conan Doyle went abroad in October 1929, he could have seen his story screened in Germany, Italy, or the Benelux countries. Instead, he attended its Danish premiere in Copenhagen, shortly before the film opened throughout Scandinavia, Czechoslovakia, Hungary, and Ukraine. The film did well enough that Pathé then released a shortened version for the home-movie market on 9.5mm. Finally, the Nazis re-made it in 1937, produced by screen star Anny Ondra. This was the version Hitler kept in his retreat at Berchtesgaden.
So why, with all this success, did it never premiere in the United States or Britain? Americans never saw it because by August of 1929, the fateful year of the film's opening, American movie houses had been mostly converted to sound and were no longer in the market for silent pictures, least of all foreign-language imports with no big-name movie stars. Its fate was sealed in Britain when Gainsborough Pictures decided to make a talkie version of The Hound (1931), which, despite mediocre reviews, found its way into the English-language markets that Oswald's film never could.
The Warsaw archive's 35mm print is an original distribution master in near-mint condition. Unfortunately, one reel is missing, but some of that footage has been supplied by a 9.5mm Pathé Baby print held by a film collector in Vienna. His generous offer to make the print available, like the discussions leading to the original Warsaw-San Francisco collaboration, took place between screenings at the Giornate. Almost 90 years after its original release, the unleashed Hound is ready for a new run.
Russell Merritt
The restoration of Der Hund von Baskerville is based on an original 35mm nitrate print held by Poland's National Film Archive, with some missing scenes bridged with a Pathé-Baby print belonging to Michael Seeber of FILM Verlag. German censor records provided a complete document of the original intertitles, allowing for a restored version in the original German, which was then translated for a second version in English. However, a significant portion of the film is still missing from Reels 2 and 3. The narrative gap is bridged with a series of still images from the collection of the Deutsches Filminstitut and the storyline was gleaned from a draft shooting script and the censor record. A partnership between the Filmoteka Narodowa– Instytut Audiowizualny and the San Francisco Silent Film Festival, this restoration was made possible through the generous support of Glen Miranker, the Sunrise Foundation for Education and the Arts, Rick Andersen, and John and Susan Sinnott.
Robert Byrne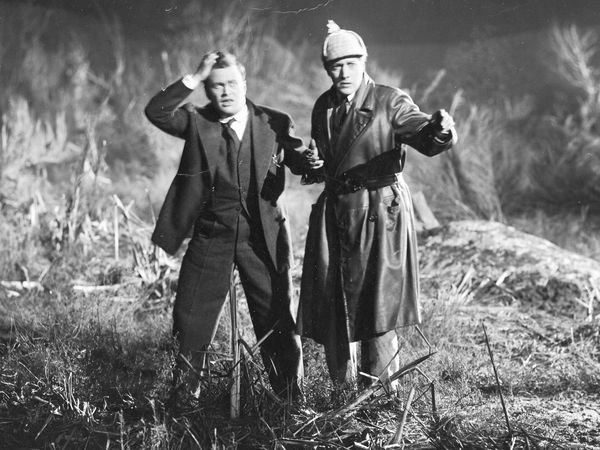 regia/dir: Richard Oswald.
scen: Herbert Juttke, Georg C. Klaren; dal romanzo di/based on the novel by Sir Arthur Conan Doyle, The Hound of the Baskervilles, 1902.
photog: Frederik Fuglsang.
scg/des: Gustav Knauer, asst. Willy Schiller.
cast: Carlyle Blackwell (Sherlock Holmes), George Seroff [Serov] (Dr. Watson), Fritz Rasp (Stapleton), Alexander Murski (Lord Charles Baskerville), Livio Pavanelli (Sir Henry Baskerville), Betty Bird (Beryl Stapleton), Jaro Fürth (Dr. Mortimer), Valy Arnheim (Barrymore), Alma Taylor (Mrs. Barrymore), Carla Bartheel (Laura Lyons).
prod: Erda-Film, Berlin.
v.c./censor date: 17.08.1929 (B.23208).
première: 28.08.1929 (Capitol, Berlin).
copia/copy: 35mm, 1486 m. (orig. 2382 m.), 65′ (20 fps); did./titles: ENG.
fonte/source: San Francisco Silent Film Festival.
Restauro/Restored: 2018, San Francisco Silent Film Festival & Filmoteka Narodowa – Instytut Audiowizualny (FINA), Warszawa.