DALLA VILLA REALE DI RJEKA (MONTENEGRO) [From the Royal Villa at Rjeka (Montenegro)] (IT 1912)
Directed by Luca Comerio

Montenegro was the real-life Ruritanian avatar par excellence, its pint-size dimensions, inaccessible terrain, and scrappy denizens acting as the perfect locus for countless flights of fancy. Politicians, novelists, and travel writers adored Orientalizing the country, which became a fully recognized independent state in 1878, whose ruling prince, Nikola Petrović-Njegoš (1841-1921), was the ideal representative for such a land: picturesque in his ubiquitous national costume, generally armed, and not at all regal. Nicknamed "the father-in-law of Europe" for marrying five of his nine daughters into royal and noble houses, Nikola, who declared Montenegro a kingdom in 1910, was a man who knew very well how to craft his image.
"He raised his little principality from anarchy and barbarism to the standing of a modern state," wrote Alexander Roda Roda (Neue Freie Presse [Vienna], 06.03.1921). "If you, a foreigner, registered at the Royal Hotel of his capital, he knew your name ten minutes later. If you were not able to get a stamp at the Post Office, he would get it for you." Nikola wrote poems, patriotic hymns, and a play, Balkanska carica, which Italian composer Dionisio de Sarno San Giorgio turned into an opera in 1891; in 1913 it was published in English as The Empress of the Balkans – could there be a more Ruritanian title? Edith Durham stated, "He was the mediæval forerunner of the cinema – a means by which propaganda may be spread with a minimum of mental exertion on the part of the audience." (The Contemporary Review, 01.01.1921).
The title Dalla villa reale di Rjeka (Montenegro) is misleading, as it's attached to a composite film made up of footage shot in 1910 during King Nikola's coronation in Cettigne and then jumps ahead two years to the winter capital of Rijeka Crnojevića (now a run-down backwater) during the First Balkan War. We first see a spirited procession of family and dignitaries that acts as a perfect template for every kind of Ruritanian dress: Queen Elena of Italy is on her father's arm, followed by King Vittorio Emanuele III escorting his mother-in-law Queen Milena. Next comes Crown Prince Aleksandar of Serbia escorting his aunt Princess Anna of Battenberg, followed by a host of others, including the Grand Duchesses Milica and Anastasia, who brought Rasputin into the Romanov circle. It then shifts to 1912, with Crown Prince Danilo, who famously sued M-G-M in 1927, claiming The Merry Widow damaged his image, and his independently minded sister Princess Xenia inspecting cars to be used for transporting wounded soldiers. Also included is Prince Peter, the only one of Nikola's children to marry a commoner.
Jay Weissberg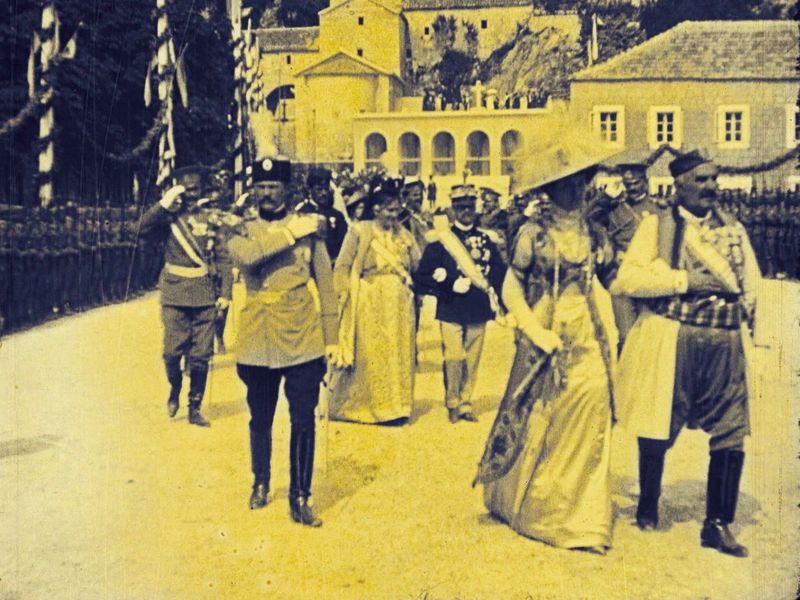 DALLA VILLA REALE DI RJEKA (MONTENEGRO) [From the Royal Villa at Rjeka (Montenegro)] (IT 1912)
regia/dir, prod: Luca Comerio.
riprese/filmed: 1910, 1912. 
copia/copy: DCP, 6′, col.; did./titles: ITA.
fonte/source: Cineteca di Bologna.