CHIGNON D'OR

André Hugon (FR 1916)
Chignon d'or is the first of four films that André Hugon made with Mistinguett. As the three framing shots indicate, the film is built around Mistinguett's virtuosity performing a range of popular roles. In the first shot she presents herself: an idol of the Parisian music-hall whose fame is associated with idiosyncratic clothing and headwear (note her unusual hat, also identifiable in photographs of her philanthropic work for the war effort), a cheerful and outgoing countenance, and public familiarity with her affinity for domestic pets (hence the two pet dogs). In the second shot, Mistinguett is dressed in the cap, oversized jacket, striped t-shirt, patched shorts and bare legs of a parigote (Paris street kid). Selling newspapers, she offers her audience a copy of Le Journal, the most "boulevardier" of Parisian dailies. Pulling her empty pockets inside-out, she is literally a poor but plucky "child of the people." In the third shot, Mistinguett appears as a gigolette (streetwalker). With her hair pulled back into a casual chignon, a black ribbon tied tightly around her neck, a white camellia pinned at her cleavage (indicating, to those in the know, physical availability), hands in skirt pocket, and her shirt belted tightly into a long skirt, she is Édouard Manet's barmaid Suzon from his 1882 painting A Bar at the Folies-Bergère,  just as she is Henri de Toulouse-Lautrec's "La Goulue" at the Moulin Rouge. Facing the camera but engaging with a fictional customer off-screen, she provocatively smiles, winks, shrugs, and finally blinks twice, in the character of a Parisian pierreuse sexually commercializing a street-corner.
These three shots place us in the creative, ever changing performing space of the café-concert. Mistinguett is the clear star of this show. She reveals a capacity to build a revue around her own remarkable transpositions between well-known Parisian characters, as well as a capacity to insert the most famous elements of her celebrity identity into narrative action. Hence, Mistinguett does not only play a range of her established roles, but uses film to reiterate and exhibit her relationship to fashion, acrobatic dance, and athletic skill.
The story that Chignon d'or recounts reiterates Mistinguett's cross-class appeal. She plays herself, the famous diva who is already surrounded by the opulence of an extravagant lifestyle. Given the new theatrical role of Chignon d'or, a gigolette des faubourgs (a streetwalker of the working-class suburbs), she chooses appropriate clothing and heads out to learn and rehearse her part. She chances upon a group of three pimps dressed in the costume of the apache – a cap, dark jacket, (red) neck scarf, and wide belt – signs that they are members of a neighborhood criminal gang. Taken to a bar called the Lapin Blanc (White Rabbit, which, appropriately, leads Mistinguett into her own "Wonderland"), she meets Bébert, the "disguised" Count Hector de Nages, who escapes aristocratic boredom by moonlighting as a friend and customer of the apache, grateful for the women they supply. In the seedy bar, tables are cleared while Bébert plays guitar; Mistinguett then performs the erotic and brutal apache dance made famous through her earlier stage partnership with Max Dearly. That this acrobatic dance romanticized the relationship between the prostitute and her pimp indicates the layers of self-reference and performance that are contained in the film. We have indeed been transported into a wonderland where we are constantly led to ask: what are we watching?
Mistinguett's dance ends in jealous fights between herself and Zizi, as well as between Bébert and her dance partner, Le Frisé. Escaping the bar, she returns to her life as the famous Parisian performing Chignon d'or on the professional stage. However, she has fond memories of Bébert, and returns to the Lapin Blanc. A large ring she wears when she enters the bar attracts unwanted attention. Forced to flee the apache, she is chased across the roofs and streets of Paris (as in a Feuillade film). When she is eventually captured – after clambering across rooftops, climbing down a drainpipe, and wrestling a gang member into the Seine – she again escapes, by leaping onto a moving car. The apache then sneak into Mistinguett's home at night to steal her jewelry. Catching Le Frisé at her opened safe, she is recognized as Chignon d'or. Although saved by Bébert, she again has to masquerade as a parigote to escape and finally rid herself of the gang. It is in this final guise of the street vendor that she crosses paths with the Count, and is struck by his likeness to Bébert. Later the Count rifles through a theater program for the Olympia, and finally realizes Chignon d'or's identity. Thus far he has been unable to see through the guise of the gigolette and the parigote; it is a printed advertisement that reveals Mistinguett's true identity. The Count hurries to the theater where Mistinguett is performing, introduces himself, and the two retreat to a romantic and concluding walk in a park.
It is not only through the self-referential narrative, the versatility of Mistinguett's performance, or the display of her remarkable athleticism that this film captures our attention. Its variegated approach to mise-en-scène also demonstrates a rich fertilization between the French café-concert and early French film. Interior shots carefully construct character – for example, there is the orientalism of the aristocrat's objet's d'art and the constant fracturing of domestic and studio spaces into the multiple reflective surfaces of mirrors, glass doors, and windows. There is also the brilliant nighttime burglary, where a single beam of light focuses attention on the subterfuge and suspense of a break-in. And, of course, there are the beautifully rendered exterior shots of war-time Paris, revealing suburb and city buildings, pedestrians crossing a peaceful Seine, steam trains, and (best of all) Parisiennes delighting in their role as Parisiennes while they buy papers from Mistinguett, acting the parigote. This, then, is a film not only about Mistinguett, but about le peuple, that public who not only cheered for "La Miss" but who also participated in the creation and endurance of her story.
Victoria Duckett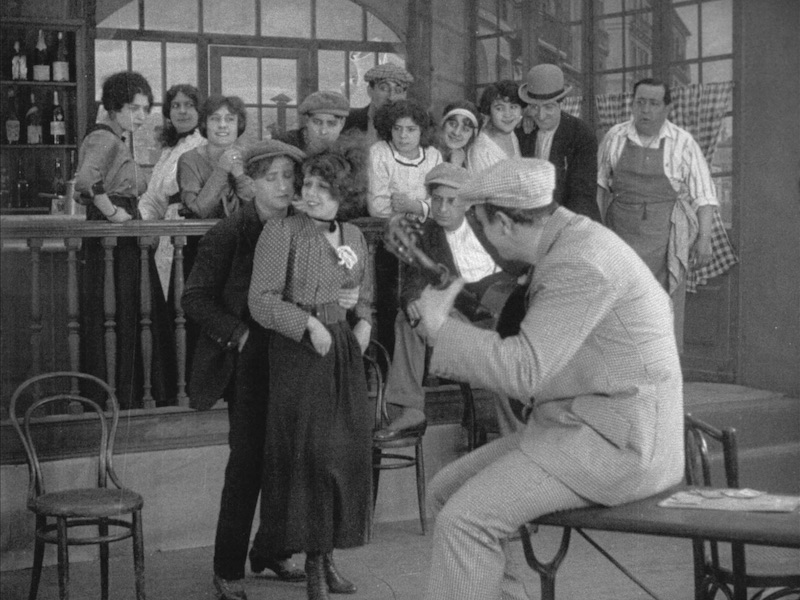 regia/dir: André Hugon.
scen: Yves Mirande.
cast: Mistinguett, Harry Baur (Il conte/Comte Hector), Blanche Layrac (Zizi), Jean Magnard (Le Frisé).
prod: Films Succès.
uscita/rel: 15.05.1916.
copia/copy: DCP, 48'54" (da/from 35mm); did./titles: FRA.
fonte/source: CNC – Centre national du cinéma et de l'image animée, Bois d'Arcy.