The travelogue is an eminently adaptable genre that invites hybrid uses, as we've seen in this edition with the travelogue-fashion short Un voyage au Caire and the travelogue-commercial Tiedemanns Naturfilm: Over Besseggen på Motorcykkel. With České hrady a zámky, what starts as a travelogue among picturesque Czech castles develops into a comic chase film, which in turn becomes a prologue for a play starring the actor-director Karel Hašler. It's a deliciously inventive concept: when audiences arrived at the Théâtre Variété in Prague to see him in the play Pán bez kvartýru (the Czech title for Der Herr ohne Wohnung, by Bela Jenbach and Rudolf Österreicher), they found posters alerting them that Hašler had to postpone his appearance, but a film would act as a stopgap until his arrival. A screen was revealed, and then České hrady a zámky was projected.
It opens with a montage of three famed Czech castles, Bezděz, Točník, and Karlštejn. Hašler and his sweetheart are visiting the latter, an imposing medieval castle given the neo-Gothic treatment in the late 19th century. After enjoying the hills and ramparts they go to a café, where Hašler is recognized by a man at the neighboring table who shows him a newspaper advertisement clearly stating that the actor is scheduled to perform at the theater that very day. Realizing he's extremely late, Hašler jumps up and grabs any means of transportation possible to cover the 30 kilometers in time. The final shot sees him in top hat and tails climbing down a rope from the roof of the Variété (today called the Hudební divadlo Karlín) and into the building, at which point the real Hašler would have burst out from behind the screen and the play would begin. The stunt, fully reported in "Karl Hašler im Theater Variété," Prager Tagblatt, 17.09.1916, was a sensation.
Karel Hašler (1879‒1941) was one of the most celebrated Czech performers of the era, known as a cabaret singer and songwriter as well as an actor, writer, and director. His film career began in the silent era, but picked up steam in the 1930s with a spate of much-loved musicals for which he also composed many of the songs. His patriotic lyrics ultimately ran afoul of the Nazi occupiers, especially after he adapted anti-German words to "Ta naše písnička česká" ("That Czech Song of Ours") from the 1932 film Písničkář. The overlords were not amused, and Hašler was sent to Mauthausen concentration camp, where he was murdered. Still a major figure in Czech popular culture today, Hašler gave his name to a popular herbal boiled sweet, the Hašlerka, and in 2008 a documentary was made about his illegitimate son Thomas's quest to understand his father's legacy, Písničkář, který nezemřel (The Immortal Balladeer of Prague), directed by Marek Jícha and Josef Lustig.
Until now, the film has been dated to 1914, but the discovery of the article from the Prager Tagblatt detailing the way it was screened enabled researchers to locate the doctored newspaper page, seen in close-up (Národní listy, 11.9.1916); this allows us to definitively date the film to September 1916.
Jay Weissberg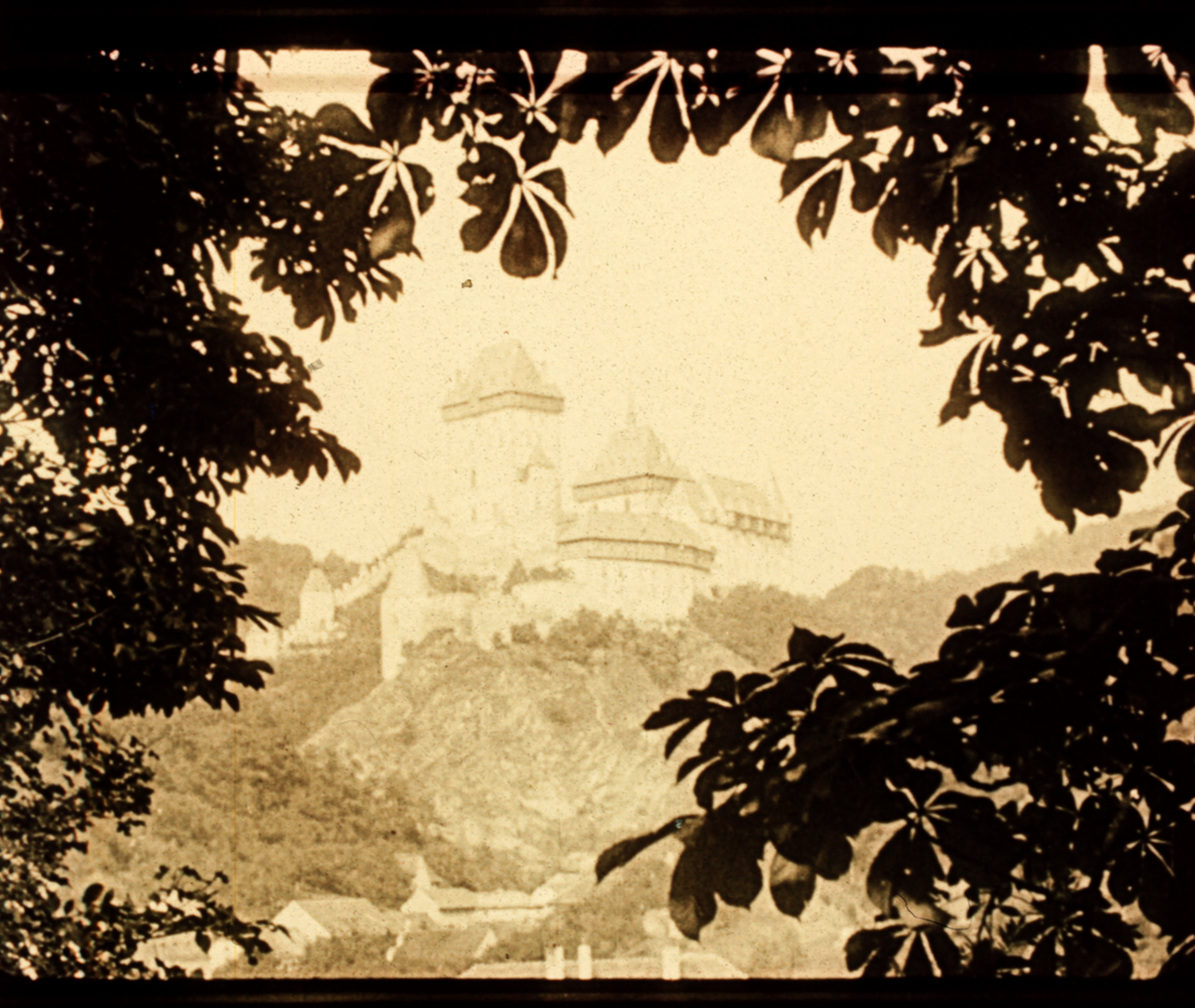 ČESKÉ HRADY A ZÁMKY (CS 1916)
(Böhm. Burgen u. Schlösser) [Castelli e palazzi cechi / Czech Castles and Palaces] 
regia/dir, scen: Karel Hašler.
photog: Josef Brabec.
cast: Karel Hašler (se stesso/himself), Anna Steimarová (la fidanzata/his sweetheart), Bedřich Vrbský (proprietario imbarcazione/boat owner).
copia/copy: streaming digital file, 7'25"; did./titles: CZE, GER.
fonte/source: Národní filmový archiv, Praha.