BEVERLY OF GRAUSTARK

Sidney Franklin (FR 1926)
Thank goodness Agnes Christine Johnston jettisoned most of George Barr McCutcheon's 1904 novel Beverly of Graustark when writing her delightful screenplay for Marion Davies. The source material, about a daughter of the Confederacy mistaken for the princess of Graustark, falling in love with a prince disguised as a shepherd-bandit and thwarting a foreign invasion, is singularly lacking in distinction and makes Anthony Hope's The Prisoner of Zenda feel like a near masterpiece. McCutcheon himself wasn't pleased with his book, the first of five sequels to his Ruritanian romance Graustark (1901), though his unhappiness was no doubt made less distressing by a $10,000 advance. Beverly of Graustark was already into its tenth edition just one year after publication and helped make the author one of the wealthiest writers in America by the time he died in 1928.
Stage rights were sold to Arthur G. Delamater in 1908, and the dramatization by Robert Melville Baker went on the road the following year to great success. McCutcheon shrewdly continued to earn money from the material, selling the rights to Biograph for a 1914 Klaw & Erlanger film starring Linda Arvidson, but according to an essay in The Yale University Library Gazette (April 1985), litigation ensued and in 1924 he re-sold the movie rights to Hearst affiliate International Studios for $30,000, one-fourth of which went to Baker as dramatist. If Monta Bell's Lights of Old Broadway (1925) can be considered the turning point in Davies' career, allowing her playful spryness to take over the screen, then Beverly of Graustark, which began shooting shortly before that earlier film's release, was the movie that really brought out her aptitude for physical comedy, establishing the Davies persona later seen to such delicious effect in Show People and The Patsy (both 1928).
Johnston, who also wrote those two comic masterpieces, discarded most of the novel's plot, unlike the middling 1914 film. In the screenwriter's new iteration, Beverly heads back home to Washington, D.C. from boarding school when she learns that her exiled cousin Prince Oscar of Graustark (Creighton Hale, in a part originally meant for George K. Arthur) has been made ruler of the tiny kingdom somewhere east of Switzerland. "Do not be excited," her father counsels his daughter, but to no avail, and Beverly travels to Europe to witness the coronation. A ski accident incapacitates Oscar, who needs to be in the capital or risk a mutiny led by the duplicitous General Marlanax; the prince's aide-de-camp Duke Travina spies Beverly looking boyish and hits on the idea of putting her in uniform and having her impersonate her cousin for a few days until he's able to travel.
"Marion Davies makes the best-looking boy you ever saw!" proclaimed the New York Herald Tribune, and a great deal of the film's humor comes from the cross-dressing gag (devoid of even a trace of homoeroticism), nowhere to be found in the novel. In a June 1926 profile by Jane Tilton in Motion Picture Magazine, Davies said, "It isn't going to be like the story. It will be 'Graustark of Beverly Hills' rather. You see, the director didn't like the story. I wanted to do 'Twelfth Night.' The studio thought Shakespeare wouldn't be so good on the screen – they may be right, I don't know! – so the two stories were considered together, and a tale of a girl who masqueraded as a boy – Prince Oscar – was evolved." Whether it really was director Sidney Franklin's decision or Irving Thalberg as producer or Johnston, the changes breathed new life into the Ruritanian genre.
So too did Franklin's fine balance between slapstick and visual flair, with cinematographer Percy Hilburn adding more sophisticated layers. To further boost the film's prestige, the producers decided on Technicolor for the final reel, shot by Ray Rennahan, whose 1972 interview with Richard Koszarski, quoted by James Layton and David Pierce in The Dawn of Technicolor, 1915-1935 (2015), offers invaluable information: "It was in a very soft gray all the way through and the costumes were all pastels, beautiful things. It was about the prettiest shot I had ever seen at that time for an interior and we were almost ready to shoot," but then studio executives and Hearst felt the tonalities needed enhancing. "We had to give up that gorgeous shot and they sent out and got a lot of bunting and they strung it around the beautiful walls. It was murder." The press, unaware of the backstory, still singled out the color sequence as the highlight of a film highly praised for its production values.
Davies however remains the film's raison d'être. In the words of Delight Evans, Screenland, July 1926, "ninety years from now, when all the war pictures and propaganda films and arty productions have been forgotten, some old white-beard is sure to mumble, 'There was a girl named Marion who looked awfully cute in boy's clothes.'" Make that ninety-three years.
Jay Weissberg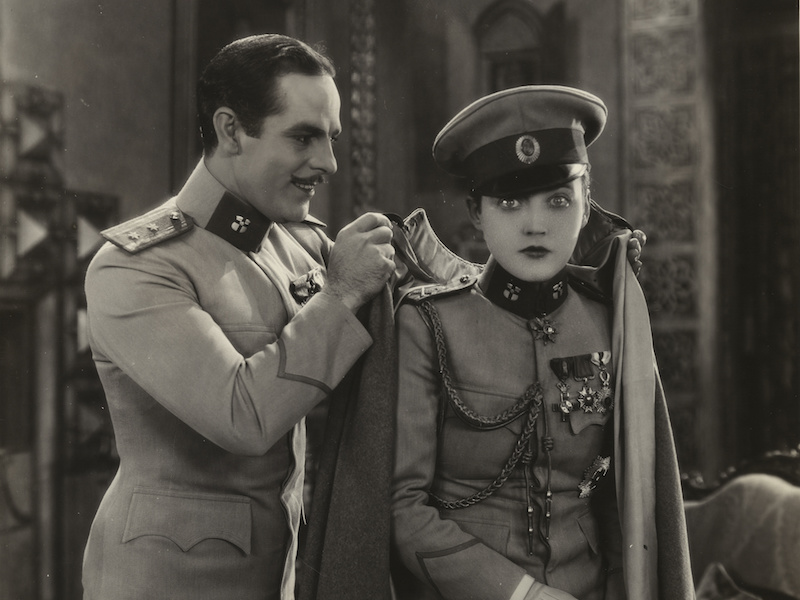 regia/dir: Sidney Franklin.
scen: Agnes Christine Johnston, dal romanzo di/from the novel by George Barr McCutcheon (1904).
did/titles: Joe Farnham.
photog: Percy Hilburn; Ray Rennahan (Technicolor).
mont/ed: Frank Hull.
scg/des: Cedric Gibbons, Richard Day.
cost: Kathleen Kay, Maude Marsh, André-Ani.
asst dir: H. B. Boswell.
cast: Marion Davies (Beverly Calhoun), Antonio Moreno (Danton), Creighton Hale (Principe/Prince Oscar), Roy D'Arcy (General Marlanax), Albert Gran (duca/Duke Travina), Paulette Duval (Carlotta), Max Barwyn (Saranoff), Charles Clary (Mr. Calhoun), [non accreditati/uncredited: Sidney Bracey (cameriere/valet), Lou Duello (ballerino/dancer)].
prod: Irving G. Thalberg, Cosmopolitan Pictures.
dist: M-G-M.
uscita/rel: 22.03.1926.
copia/copy: DCP, 77′ (da/from 35mm, orig. 6977 ft., b&w, imbibizione e viraggio/tinting & toning, Technicolor finale, 364 ft.); did./titles: ENG.
fonte/source: Library of Congress Packard Center for Audio-Visual Conservation, Culpeper, VA (Marion Davies Collection).