BALLETTENS DATTER (DK 1913)
(GB: Unjustly Accused) [Daughter of the Ballet]
Directed by Holger-Madsen
Music by John Sweeney

Count de Croisset becomes infatuated with the star dancer Odette Blant. She accepts his offer of marriage, but must promise to abandon the stage forever. She sorely misses performing, however, and when the theatre manager Delage asks her to step in after his star is injured, she agrees. Her husband is at the theatre and recognizes her. Thinking she is having an affair with Delage, he challenges him to a duel. Each duellist must swallow a pill, one of which supposedly contains a deadly poison. This is Delage's idea, allowing him (with the help of his uncle, the apothecary Michot) to engineer a happy ending for all concerned.
Nordisk's English-language advertising described Ballettens Datter as "An engrossing drama finely filmed." The genre label is misleading; the Danish program calls it "A modern comedy", which is much closer to the mark. Danish cinema of the 1910s is filled with stories of protagonists from respectable backgrounds becoming fatally attracted to stage or circus performers – sometimes male, as in Afgrunden (The Abyss, 1910), but more often female, as in Den sorte Drøm (The Black Dream, 1911) and Atlantis (1913). Here, however, we get a comic version of this standard melodramatic plot. It is quite charming, although it is hard not to feel a sense of frustration with the requirement that the heroine must abandon her career and art to achieve a happy ending, however much that was in keeping with the mores of the time.
The ballerina's longing for the stage is effectively transmitted by the fine direction of Holger-Madsen. The sets have wide doorways with heavy drapes, which elegantly suggest a stage with its curtains, and large mirrors allow Odette to put herself on display even when alone. Holger-Madsen also uses drawn drapes to reveal unseen spaces beyond, and mirrors to let us see the faces of both characters engaged in a confrontation. Symmetrical compositions and a closing shot showing characters silhouetted against the light are further evidence of his striking visual sense.
Holger-Madsen (1878-1943) was born Holger Madsen, a plain, common Danish name, but in 1911, when he was an established stage actor, he changed it to Holger-Madsen, earning him the nickname "Holger Hyphen". He would direct some of Nordisk's biggest productions, including Ned med Vaabnene! (Lay Down Your Arms, 1915) and Himmelskibet (A Trip to Mars, 1918). In the 1920s he worked in Germany, where he directed films with more modest budgets. He also occasionally acted in his own films, including Folkets Ven (A Friend of the People, 1918) and the strange theosophy-influenced anti-suicide tract, Har jeg ret til at tage mit eget Liv? (Can We Escape?, 1920).
Torben Meyer (1884-1975) gives a nicely judged comic performance as the theatre manager Delage. A trained stage actor, he appeared in more than 75 films in Denmark from 1910 to 1926. He then moved to Hollywood, where he would play small roles in nearly 170 films. A victim of the monster in The Bride of Frankenstein and a Preston Sturges regular (usually as "Schultz"), he also appears in The Great Dictator as the smiling man whose bald pate Charlie the barber polishes to such a shine that he uses it to check his own reflection, and in Casablanca as the man who "ran the second-largest banking house in Amsterdam". His best-known role was as one of the Nazi judges on trial in Judgment at Nuremberg.
Two scenes (Rita Sacchetto in her boudoir; the poison-pill duel) were cut from the original negative for use in the 1937 compilation film Nordisk Film gennem 30 Aar [Nordisk Film through 30 Years]. These two scenes have now been reintegrated in the continuity, allowing the film to be experienced in its complete form once more.
Casper Tybjerg
Rita Sacchetto The star of Ballettens Datter, dancer Rita Sacchetto (1880-1959) made her debut at the Munich Künstlerhaus in 1905 and appeared on stages across Europe and North America over the next decade. Sacchetto was known for her Tanzbilder ("dance pictures"), quasi-narrative dances performed in elaborate period costumes inspired by the paintings of artists such as Velázquez and Botticelli, and accompanied by historically or geographically related art music. In her dances, which she occasionally began posed in large ornamental frames, Sacchetto sought to convey the style and atmosphere of works of visual art and music through simple choreography, pantomimic gestures, and dramatic facial expressions.
A 1913 performance in Copenhagen led to a lucrative contract with Nordisk Films. She made eleven films with director Holger-Madsen, appearing both as a dancer and in straight roles. In Mens Pesten raser (GB: Should He Forgive) she starred as the beautiful, bored wife of a military officer stationed in India, and in Den hvide Dame (The Ghost of the White Lady, 1913) she played a wealthy young woman caught in a love triangle.
As Odette Blant in Ballettens Datter, Sacchetto's choreographic sensibilities are on display. Early in the film, Odette attracts Count de Croisset's attention when she performs an excerpt from Amourette de Pierrot, a pantomimic piece in which Pierrot vainly attempts to catch a butterfly. (Sacchetto's stage version was accompanied by Zygmunt Stojowski's piano work Amourette de Pierrot, op. 30, no. 1. In 1909, Sacchetto also appeared as Pierrot in a three-act musical pantomime called Histoire d'un Pierrot, set to music by Italian composer Pasquale Mario Costa. Summaries do not mention a scene with a butterfly, but it is possible that elements of the Pierrot dance performed in Ballettens Datter may have been drawn from this stage work as well.)
After witnessing Odette's second performance, in which she and a corps de ballet in flowing garments perform simple, graceful combinations likely excerpted from one of Sacchetto's "Botticelli" dances, the enraptured Count sends flowers and a dinner invitation backstage. Odette's third, illicit solo – which she performs masked, in a costume resembling that of Sacchetto's Spanish dances – leads to a marital rift and the poison-pill duel. Between dances, Odette is repeatedly captured striking poses in drapery-lined doorways and large ornate mirrors at home, conjuring the picture frames that she often used in her stage Tanzbilder.
Following her work with Holger-Madsen, Sacchetto appeared in films by several other Nordisk directors, and continued to dance onstage. Her performance career was abruptly curtailed in 1924, when, in an eerie echo of Ballettens Datter, a friend of her Polish count husband accidentally shot her in the foot.
Mary Simonson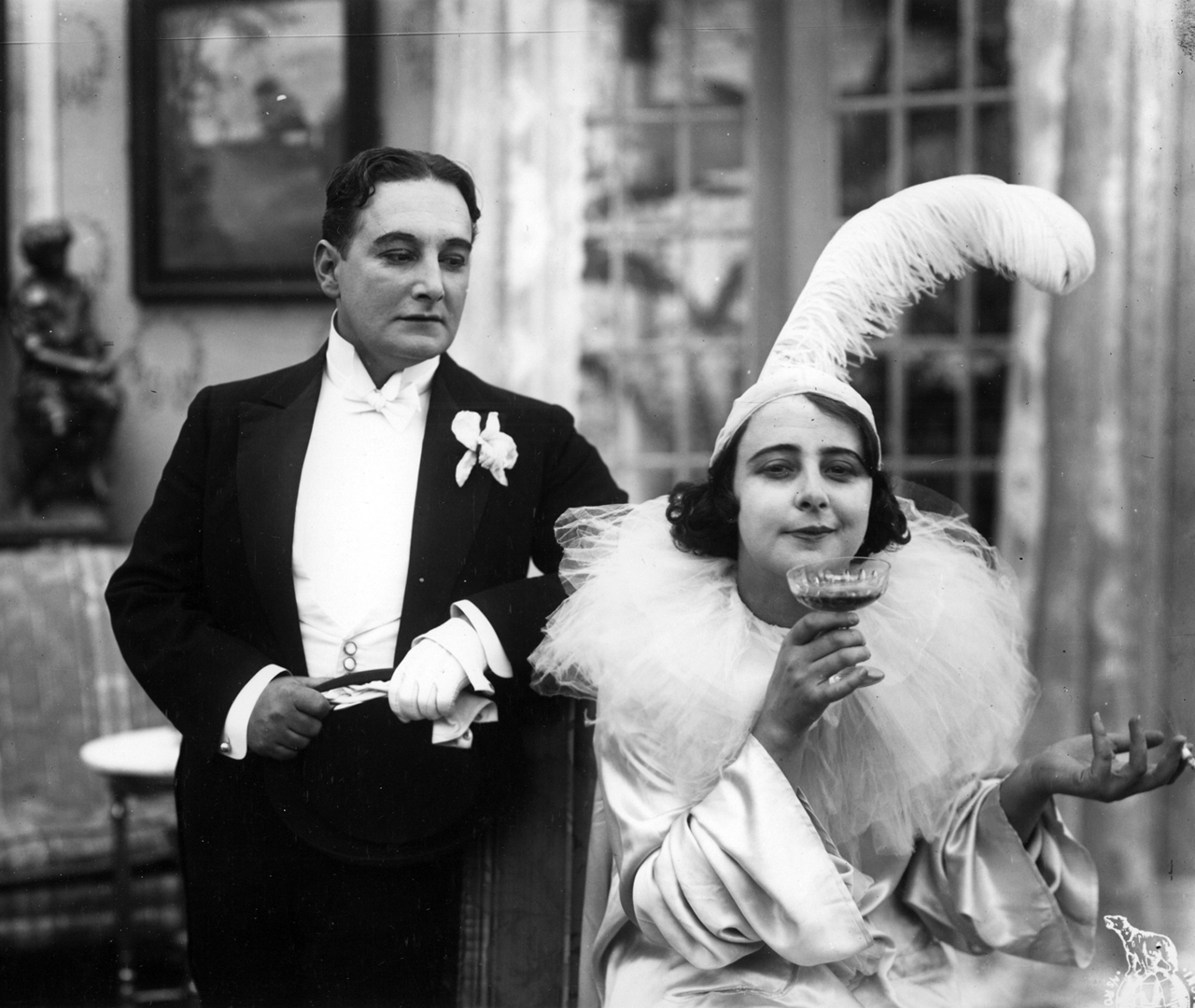 BALLETTENS DATTER (DK 1913)
(GB: Unjustly Accused) [La figlia del balletto / Daughter of the Ballet] 
regia/dir: Holger-Madsen.
scen: Peter Nielsen.
photog: Marius Clausen.
cast: Rita Sacchetto (Odette Blant, ballerina/dancer), Svend Aggerholm (Conte/Count de Croisset), Torben Meyer (Delage, il direttore del teatro/theatre manager), Christian Schrøder (Michot, lo zio farmacista/his uncle, an apothecary), Oluf Billesborg (Baron de Montagliari).
prod: Nordisk Films Kompagni.
uscita/rel: 26.09.1913.
copia/copy: streaming digital file, 55′ (da/from 35mm, 18 fps); did./titles: DAN.
fonte/source: Det Danske Filminstitut, København.