In production A Romance of the Redwoods was provisionally titled Other Men's Shoes and Jenny, the Unsuspected, but neither title was deemed suitable for a vehicle for Mary Pickford, the star for whom Paramount had created Artcraft Pictures Corp. in 1916. A Romance of the Redwoods was a crucial project in Famous Players-Lasky's dealings with their expensive star. It was an attempt to move away from what Jesse Lasky referred to as "typical Pickford stuff" and to produce a quality Pickford feature at a lower cost than usual. "Steely" Cecil B. DeMille, the company's leading director, and his able screenwriter Jeanie Macpherson were ready to tackle the task. According to Lasky, DeMille's idea of casting Pickford in a "western" was a "happy one", as "she ha[d] done about everything else". DeMille was experienced in the genre, having already filmed two successes, The Squaw Man (1913) and The Virginian (1914). He had also handled big talent before, working with the likes of Fannie Ward, Marie Doro, and Geraldine Farrar.
The western romance he had in mind was the story of Jenny Lawrence, who travels West during the California Gold Rush to live with her uncle. Once there, she discovers that a stagecoach-robber by the name of "Black" Brown (Elliott Dexter, on his way to becoming a DeMille regular) has stepped into her deceased uncle's shoes. Circumstances prevent her from revealing Brown's true identity, and before long Jenny and her "uncle" find themselves falling in love. Brown promises to mend his ways, but will their love pass the test of crime? The story was a variation on the "good-bad man converted by civilization" pattern of the William S. Hart westerns, and borrowed freely from The Girl of the Golden West, a Belasco play already filmed by DeMille in 1915.
After the success of two original stories in 1915, The Cheat and The Golden Chance, DeMille and Macpherson again opted for new material, despite Lasky's urging to develop the studio's recently acquired 1903 Kate Douglas Wiggins novel Rebecca of Sunnybrook Farm. DeMille and Macpherson's working relationship remains difficult to ascertain, as it extended into the private realm. Accounts hint at a tempestuous dynamic, but it was also a creatively fruitful, exclusive, and longstanding collaboration. Macpherson was unambiguously credited as (co-)screenwriter, on screen and in private communications between Lasky and DeMille, and she was paid well, a significant marker of appreciation and professional standing. (DeMille later muddied the waters when he said he had admired Macpherson for her "ideas" but not so much for her writing skills.) The fact that Macpherson's name only survives in tandem with DeMille weakens her own authorship and agency, despite her many writing credits, her role on the board of the Palmer Photoplay Corporation, and being a founding member of the Academy of Motion Picture Arts and Sciences. Like most of Macpherson's writing, the plot of Romance is simple but effective, mixing western clichés with humor, straightforward characterization, and efficient foreshadowing.
As Lasky had hoped, Pickford received favorable reviews: "Herewith enters Mary Pickford, actress," Variety noted approvingly. Motion Picture News concluded that Pickford "handles her dramatic moments excellently," and Picture-Play swooned over the star's seemingly endless performance capabilities. Yet, the Pickford-DeMille collaboration, while financially and critically successful, felt like an arranged marriage. To her humiliation, Pickford had been coerced into writing an obedient letter to DeMille at the start of the production, pledging unreserved co-operation. When it became clear that Maurice Tourneur's The Poor Little Rich Girl, made just before Romance, was a resounding success, Pickford would emerge triumphant later that year as her own producer, from Marshall Neilan's Rebecca of Sunnybrook Farm onwards.
Kevin Brownlow notes that DeMille did appreciate the strengths and needs of his star, using more "bold close-ups" than usual, and Alvin Wyckoff's atmospheric photography became luscious in certain Pickford scenes. Despite a mutual respect and friendship, Pickford and DeMille parted ways after the patriotic yarn The Little American (1917). Romance was shot on location in California redwood country, and did good business. If the film's total budget seems unusually high for a DeMille feature at this time, it can be explained by Pickford's impressive star salary (a whopping $96,666.67). It is clear that even if Zukor and Famous Players-Lasky had wanted to rein in their headstrong star with the imposing DeMille, she was not "reprimanded" financially.
Anke Brouwers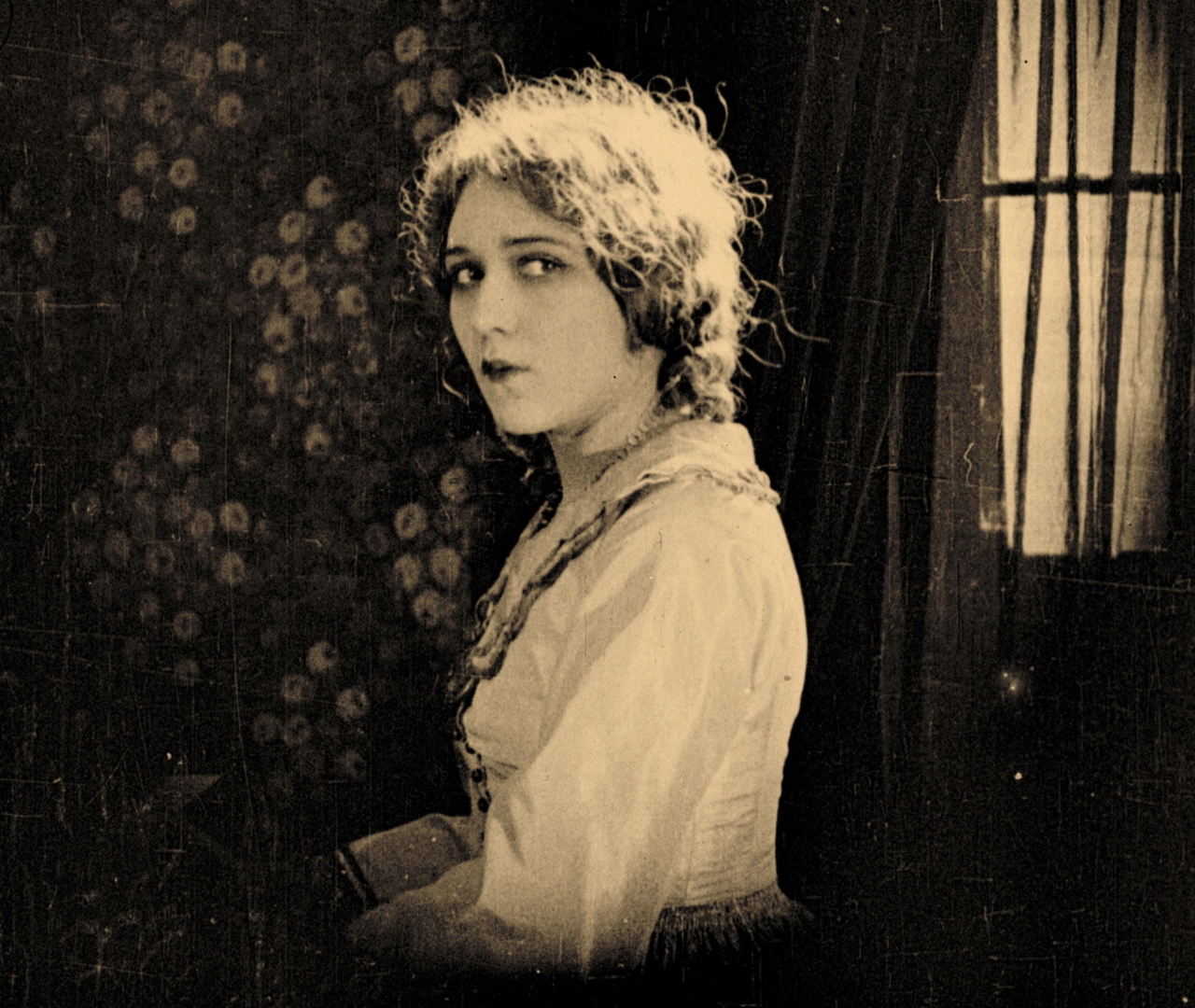 A ROMANCE OF THE REDWOODS (US 1917)
regia/dir: Cecil B. DeMille.
sogg/story, scen: Cecil B. DeMille, Jeanie Macpherson.
photog: Alvin Wyckoff.
scg/des: Wilfred Buckland.
cast: Mary Pickford (Jenny Lawrence), Elliott Dexter ("Black" Brown), Charles Ogle (Jim Lyn), Tully Marshall (Sam Sparks), Raymond Hatton (Dick Roland), Walter Lang (sceriffo/sheriff), Winter Hall (John Lawrence), James Neill (Charles Spencer, il tutore di Jenny/Jenny's guardian).
asst dir: Cullen Tate.
prod, dist: Artcraft Pictures Corp.
uscita/rel: 14.05.1917.
copia/copy: streaming digital file, 92′, (da/from 35mm, imbibito/tinted); did./titles: ENG.
fonte/source: George Eastman Museum, Rochester, NY.