CENT DOLLARS MORT OU VIF
(Driven from the Ranch)
Jean Durand (FR 1912)
This is the first of the Gaumont westerns in which Hamman plays a bad man who, unlike Broncho Billy, cannot be redeemed. An inveterate gambler, Joë gets into a brawl one day and suffers the disgrace of his employer, Sheriff Davidson. That night, while the sheriff is off on patrol, Joë takes revenge by driving Davidson's horses out of their corral; the sheriff's daughter Daisy overhears the horses and rides off over a flat, sandy landscape to warn her father. The sheriff's men track Joë, but he escapes by jumping on a passing train, uncoupling the cars, and tossing the engineer out of the locomotive cab. Later the sheriff posts a reward, and the posse resumes its pursuit through a marshy landscape. The sheriff finds Joë collapsed from fatigue, and, instead of arresting him, offers him his own gun so he can commit suicide.
This print lacks tinting and toning, which would enhance the night scene of Joë's revenge, Daisy's horseback ride, and the posse's pursuit, as well as the final scene that occurs under a red-hot sun. The centerpiece of the film, however, puts Hamman's stunt work on display in and around the train – and has no intertitles to distract from the action. In one shot, he rides up to the train rounding a bend toward the camera, dismounts his horse, and runs and grabs onto a hand-hold – and his shirt looms into CU (in the left foreground) as the train passes. After shooting several of the posse, from the last train car, he crawls (in MCU) onto the last car's roof and crawls off over the other cars to reach the speeding locomotive. An unusual shot looking straight down at the chains and bars linking the still-moving locomotive and first train car shows him desperately, and finally successfully, trying to uncouple one from the other. Hamman would return to this stunt work, with variations, in Le Railway de la mort, released four months later.
Richard Abel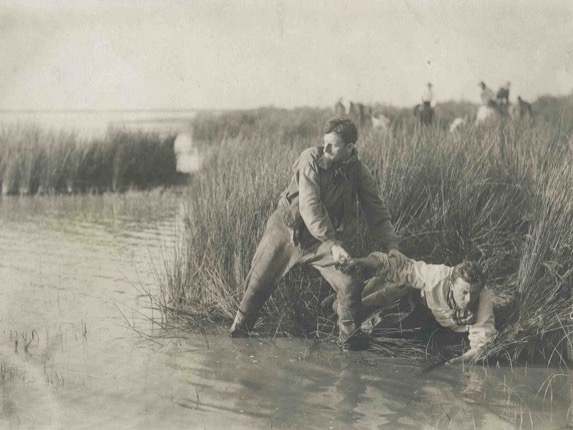 scen: Joë Hamman.
cast: Joë Hamman (cowboy Joë), Berthe Dagmar (Daisy Davidson, la figlia dello sceriffo/the sheriff's daughter), Max Dhartigny (Davidson, lo sceriffo/the sheriff), Ernest Bourbon, Gaston Modot.
prod: Gaumont.
uscita/rel: 09?/16?.02.1912.
copia/copy: DCP, 278 m., 13'25"; did./titles: FRA.
fonte/source: Gaumont Pathé Archives, Saint-Ouen, Paris.